01.12.2018 | Research | Ausgabe 1/2018 Open Access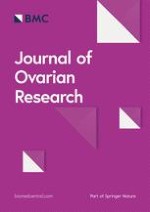 Stratification of ovarian tumor pathology by expression of programmed cell death-1 (PD-1) and PD-ligand- 1 (PD-L1) in ovarian cancer
Zeitschrift:
Autoren:

Maureen L. Drakes, Swati Mehrotra, Monica Aldulescu, Ronald K. Potkul, Yueying Liu, Anne Grisoli, Cara Joyce, Timothy E. O'Brien, M. Sharon Stack, Patrick J. Stiff
Wichtige Hinweise
Electronic supplementary material
Abbreviations
CTLA-4
cytotoxic T lymphocyte associated-4
FFPE
formalin fixed paraffin embedded
NSCLC
non-small cell lung cancer
PD-L1
programmed cell death-1 ligand
TILS
tumor infiltrating lymphocytes
Background
The immune mechanisms of disease improvement with administration of checkpoint inhibitory molecules are not well understood. Clinically, there is also ongoing debate over which patients will benefit from this therapy, whether patients who respond initially will continue to show complete responses (CR) or partial responses (PR), and whether patients' tumors need to express PD-1 and/ or PD-L1 in abundance, to predict beneficial responses to checkpoint inhibitory molecule blocking therapy targeting these molecules. At the present time, there are more questions than answers.
As a study of the immune microenvironment of ovarian cancer patient tumors offers insight into the baseline immune landscape associated with patient survival and tumor pathology, and implicates broader scope for targeting these molecules in combination studies with conventional therapy and with other novel therapies, we undertook these present investigations. We primarily selected advanced disease ovarian cancer patients for study, since this group typically have poor outcome with standard therapy, and our future goal in translational medicine is to address the need for novel alternative treatment options in this patient sector. We evaluated the expression and localization of PD-1 and PD-L1 in a cohort of ovarian cancer formalin fixed paraffin embedded (FFPE) tumor sections, and investigated whether the relative expression levels of these molecules can be relevant patient prognostic indicators. We also studied the impact of tumor infiltrating lymphocytes (TILS) along with these checkpoint molecules, on patient status including tumor grade, disease stage and survival post diagnosis.
Methods
Patients
Patients underwent surgery between 2003 and 2006 at Loyola University Medical Center (LUMC) for ovarian and other gynecologic associated cancers. Tissues were embedded in paraffin blocks for patient diagnosis to characterize stage and grade of cancer in tissue sections, and blocks were stored in the Department of Pathology, LUMC. After receiving approval by the Institutional Review Board (IRB) for the Protection of Human Subjects, we selected a cohort of 55 patients for study, most of whom were diagnosed with advanced disease ovarian cancer (Table
1
). Patient histories in the LUMC medical records were evaluated by two investigators and data collected for parameters including: age, date of birth, date of diagnosis, pre-treatment status before surgery, cancer stage, tumor grade, date of last encounter, and whether the patient was alive or deceased. Dates of death were retrieved from the patients' medical records when this date was available, or found by a search on a website such as
http://​www.​dobsearch.​com/​death-records/​
.
Table 1
Categories of patient tumors
Stage a

Tumor type

Histological subtype

No. of patients

Low (I/ II)

All

Ovarian

papillary mucinous cystadenocarcinoma

mixed adenocarcinoma, serous and endometroid

papillary serous adenocarcinoma

papillary serous carcinoma

serous carcinoma

1

1

2

4

1

High (III/ IV)

Ovarian

Ovarian

Ovarian

Fallopian tube

Peritoneum

Peritoneum

Endometrium

Endometrium

Omentum

poorly differentiated serous carcinoma

papillary serous carcinoma

papillary serous adenocarcinoma

papillary serous carcinoma

papillary serous carcinoma

papillary serous adenocarcinoma

papillary serous carcinoma

serous carcinoma

papillary serous carcinoma

1

24

10

1

4

1

1

1

2

Total

55
Antigen revealing
Formalin fixed paraffin embedded (FFPE) tissue sections (4 μm) were adhered to glass slides using tissue from a single patient on each slide for detection of PD-L1, PD-1, CD3 and CD8 by immunohistochemistry (IHC). For staining of FoxP3 on T cells, patient tissue arrays were constructed from the paraffin embedded blocks and adhered on a total of 2 glass slides with a core of tissue from each of 27 or 28 patients, as well as control tissues. Positive control thymus tissue highly expressed the molecules/ markers under study. Negative control tissue was sections of benign ovarian disease such as polycystic ovarian disease. Sections on slides were de-paraffinized in xylene and then rehydrated in a series of decreasing concentrations of alcohols. Antigen retrieval for PD-L1 and PD-1 was performed by boiling slides in a pressure cooker for 5 min in Universal HIER retrieval agent (ab 208,572, Abcam, Cambridge, MA) at a 1X concentration. Sections were washed in 0.1% tween in Dulbecco's phosphate buffered saline (DPBS; 1X, Lonza, Walkersville, MD) and then blocked in 0.4% hydrogen peroxide in DPBS, followed by blocking in 10% goat serum (S1000, Vector Laboratories, Burlingame, CA) for 1 h.
Antigen retrieval for FoxP3, CD3 and CD8 was performed by boiling sections in a pressure cooker for 5 min in Reveal Decloaker (RV1000G1, Biocare Medical, Concord, CA). After washing in DPBS, sections were blocked in 0.4% hydrogen peroxide in DPBS for 20 min, 10% goat serum or 10% horse serum (S1000 or S2000 respectively, Vector Laboratories) for 20 min, and then in Avidin/ Biotin blocking reagents (SP 2001, Vector Laboratories) to further reduce non-specific staining of primary antibody (FoxP3, CD3, or CD8).
Identification and assessment of antigens in patient sections
Tissue sections were incubated overnight in 5% blocking serum with or without primary antibody at a pre-determined and optimized dilution. PD-1 (ab137132, Abcam) and PD-L1 (ab205921, Abcam) were used at 1:500 dilution for IHC staining. The next day sections were washed in 0.1% tween in DPBS, and an amplifier polymer detection system specific for rabbit anti-human primary antibodies (ab 20,901, Rabbit specific IHC polymer detection kit; HRP/ DAB) added according to the manufacturers' guidance.Tissue was also stained overnight with primary antibodies for FoxP3 (236A/E7; ab 20,034, 1:1600 dilution, Abcam), CD8 (C8/144B; 1:100 dilution, Cell Marque, Rocklin, CA 1:1000 dilution) and CD3 (F7.2.38; 1:1000 dilution, Dako, Glostrup, Denmark). Sections were washed in DPBS and a biotinylated secondary antibody for peroxidase (PK 6102, Vector Laboratories) added for 30 min, followed by an avidin-biotin peroxidase complex and enzyme reagent (ABC, Vector laboratories). All sections were washed in DPBS and developed in Vector NovaRED (SK4800) or diaminobenzidine (DAB; SK4100, Vector Laboratories). Sections were counterstained in hematoxylin and rehydrated in xylene, followed by alcohol, then mounted in Vectamount H-5000 (Vector Laboratories).
Tumor sections were examined by pathologists SM and MA to investigate the frequency of occurrence of markers, the degree of staining intensity and location of tumor cells or lymphocytes expressing each molecule. A customized scoring system was developed by the abovementioned pathologists to obtain a numerical score to represent the average frequency of antigens as visualized over 7–10 high power fields (hpf) of IHC stained tissue sections
(
Table
2
), where "0" was the lack of expression, and "4" represented the highest frequency of expression of molecules in sections. In addition to the scoring pattern shown in Table
2
, in statistical analysis, combined PD-1 was assigned as a mathematical score which was derived by adding the observed pathology scores (0–2) for T-PD-1 and S-PD-1 in each patient section.
Table 2
Pathological interpretation of IHC stained tissue
| Marker | Scoring criteria based on cells/ high power fields a |
| --- | --- |
| T-PD-1 | 0 = < 1; 1 = 1–10, 2= > 10–50 and 3= > 50 |
| S-PD-1 | 0 = < 1, 1 = 1–25; 2= > 25–50 and 3= > 50 |
| PD-L1 | 0 = < 1, 1= > 1–5, 2= > 5–10 and 3= > 10 |
| CD3 | 0 = < 5, 1 = 5–15, 2= > 15–25, 3= > 25–40 and 4= > 40 |
| CD8 | 0 = <  1, 1 = 1–25, 2= > 25–50 and 3= > 50 |
| FoxP3 | 0 = <  1, 1 = 1–5, 2= > 5–15, 3= > 15–25 and 4= > 25 cells/ hpf |
In some statistical analysis PD-1 and PD-L1 expression was classified as low (score of 1) or high frequency (score of 2–4) to decipher correlations between the levels of expression of these molecules and parameters studied.
Statistical analysis
Patient O/S was displayed visually in Kaplan Meier plots and significance of differences by strata were determined with Log Rank tests. The frequency of occurrence of each marker was graded on a scale from 0 to 4 (Table
2
), and Cochran Armitage tests used to determine the statistical significance of trends by patient characteristics including age, cancer stage and tumor grade. Associations between the presence of PD-1, PD-L1, CD3, CD8 and FoxP3 positive cells with patient age at the time of diagnosis, cancer stage, or tumor grade were determined with chi-square or Fisher's exact tests as appropriate. Hazard ratios for overall survival (O/S) were determined from univariable Cox proportional hazard regression models for each patient characteristic and each marker. Analyses were performed using SAS 9.4 (SAS Institute, Cary, NC).
Results
Discussion
Ovarian cancer is usually diagnosed in the advanced metastatic stages. Treatment of advanced stage disease with conventional therapies is only sufficiently effective in a limited number of patients, thus in about 80 % of these patients there is disease progression or disease recurrence and death, within five years of diagnosis. In many cancers, investigators are focusing on the development of novel therapies as alternative and more robust options to existing therapies. Whereas conventional therapies primarily focus on the destruction of tumor cells, many novel therapies are designed to stimulate immune cells to elaborate augmented anti-tumor immune responses. In this respect, checkpoint immune inhibitory molecules have come full circle over the last decade for cancer immunotherapy.
Secondly, differences in reports may be due to variations in staining protocols across individual laboratories. Many investigators report difficulty in IHC staining for PD-L1. In these present investigations, we initially used tumor arrays to study the expression of PD-L1 and PD-1 in tumors. When optimizing our staining protocol, we found that it was difficult to select cores which had a good representation of tumor and stromal areas for accurate visualization of the density of these molecules in tissue arrays. Therefore, in this study we used whole tumor sections for the identification of these molecules, as is done for patient diagnosis. For molecules such as PD-L1 especially, which is not widely expressed in tumor tissues, reports in which IHC staining was performed using tumor cores may give different findings than reports from other laboratories in which staining was performed using whole tissue sections.
Thirdly, the use of different primary antibody clones to identify PD-1 or PD-L1 in tumor tissue in each laboratory, may also lead to variability in staining of sections and in interpretation. Finally, manual staining protocols in comparison with automated staining may further contribute to variations in staining interpretation.
Finally, additional parameters which may alter the expression of these molecules in tumors, is the administration of treatments such as chemotherapy to patients prior to surgery. However, at our center, for patients diagnosed with ovarian and related gynecologic cancer, the primary treatment is most often surgery for removal of tumors. Patients then undergo courses of standard therapy such as chemotherapy. Consistent with this practice, we found that a study of our patient cohort treatment plans revealed that only 3 of 55 (5.5%) patients had chemotherapy in the interval before surgery.
A low frequency of PD-1 in tumors was associated with advanced disease. This association between low PD-1 density and advanced disease was only significant when measuring S-PD-1 or combined PD-1, whereas low T-PD-1 density alone was not associated with advanced disease. Although beyond the scope of this study, this finding raises the possibility that T-PD-1 and S-PD-1 positive cells may perform unique immunosuppressive roles in the ovarian TME.
Finally, due to the multiplicity of factors regulating ORR, we believe that antibody therapy targeting the PD-1/ PD-L1 pathway in ovarian cancer will be of maximum efficacy when used in combination with other treatment regimens. Such treatments include standard therapy, immunotherapy blocking other checkpoint inhibitory molecules, dendritic cell vaccines, chimeric antigen receptor (CAR) T cell therapy, or targeted therapy, all of which can downregulate other immune suppressive mechanisms in patients, concomitantly.
Conclusions
Treatments inhibiting PD-1 and PD-L1 are beneficial only in some ovarian cancer patients. Our studies reveal that a low density of PD-1 and of PD-L1 expressing cells in tumor tissue are significantly associated with advanced disease, and that PD-L1 is expressed significantly more in high grade tumors than in low grade tumors. We conclude that a subgroup of advanced disease ovarian cancer patients with high grade tumors, bearing PD-L1, may be the best candidates for immunotherapy targeting PD-1 and/ or PD-L1.
Funding
This research was supported by a joint research award offered by the Cardinal Bernardin Cancer Center, Loyola University (to M.L.D.), and the Harper Cancer Research Institute, University of Notre Dame (to M.S.S.), made possible by funds from the Cronk Foundation. Additional support was from the Perritt Charitable Foundation (to P.J.S.). Funding agencies did not participate in the design of the study, collection, analysis or interpretation of data, or in writing the manuscript.
Availability of data and materials
All data generated or analyzed during this study are included in this published article (and its additional information files).
Ethics approval and consent to participate
Investigators received approval by the Institutional Review Board (IRB) for the Protection of Human Subjects at Loyola University Medical Center for the use of the cohort of patients in study.
Competing interests
The authors declare that they have no competing interests.
Publisher's Note
Springer Nature remains neutral with regard to jurisdictional claims in published maps and institutional affiliations.
Open Access
This article is distributed under the terms of the Creative Commons Attribution 4.0 International License (
http://​creativecommons.​org/​licenses/​by/​4.​0/​
), which permits unrestricted use, distribution, and reproduction in any medium, provided you give appropriate credit to the original author(s) and the source, provide a link to the Creative Commons license, and indicate if changes were made. The Creative Commons Public Domain Dedication waiver (
http://​creativecommons.​org/​publicdomain/​zero/​1.​0/​
) applies to the data made available in this article, unless otherwise stated.