01.12.2018 | Research | Ausgabe 1/2018 Open Access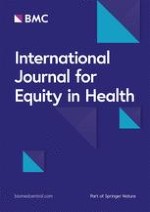 Street-level workers' inadequate knowledge and application of exemption policies in Burkina Faso jeopardize the achievement of universal health coverage: evidence from a cross-sectional survey
Zeitschrift:
Autoren:

Valéry Ridde, Gerald Leppert, Hervé Hien, Paul Jacob Robyn, Manuela De Allegri
Wichtige Hinweise
Electronic supplementary material
Abstract
Background
Street-level workers play a key role in public health policies in Africa, as they are often the ones to ensure their implementation. In Burkina Faso, the State formulated two different user-fee exemption policies for indigents, one for deliveries (2007), and one for primary healthcare (2009). The objective of this study was to measure and understand the determinants of street-level workers' knowledge and application of these exemption measures.
Methods
We used cross-sectional data collected between October 2013 and March 2014. The survey targeted 1521 health workers distributed in 498 first-line centres, 18 district hospitals, 5 regional hospitals, and 11 private or other facilities across 24 districts. We used four different random effects models to identify factors associated with knowledge and application of each of the above-mentioned exemption policies.
Results
Only 9.2% of workers surveyed knew of the directive exempting the worst-off, and only 5% implemented it. Knowledge and application of the delivery exemption were higher, with 27% of all health workers being aware of the delivery exemption directive and 24.2% applying it. Mobile health workers were found to be consistently more likely to apply both exemptions. Health workers who were facility heads were significantly more likely to know about the indigent exemption for primary health care and to apply it. Health workers in districts with higher proportions of very poor people were significantly more likely to know about and apply the delivery exemption. Nearly 60% of respondents indicated either 5% or 10% as the percentage of people they would deem adequate to target for exemption.
Conclusion
This quantitative study confirmed earlier qualitative results on the importance of training and informing health workers and monitoring the measures targeting equity, to ensure compliance with government directives. The local context (e.g., hierarchy, health system, interventions) and the ideas that street-level workers have about the policy instruments can influence their effective implementation. Methods for remunerating health workers and health centres also need to be adapted to ensure equity measures are applied to achieve universal healthcare.