12.03.2018 | Original Article | Ausgabe 4/2018 Open Access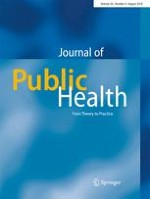 Strength-based approaches: a realist evaluation of implementation in maternity services in Scotland
Zeitschrift:
Autoren:

Beth Cross, Helen Cheyne
Abstract
Aim
Strength-based approaches draw on patients' strengths and perspectives to partner with them in their own care, recovery and problem solving. The effectiveness of strength-based approaches to address complex health problems has a growing evidence base leading to its incorporation within universal services in many countries. However, practitioners' understanding of implementation of strength-based approaches, such as how to agenda match, set goals and revise plans within universal services are under-researched. Maternity services are a key point of access to health services and women's experiences of them have consequences for families' future willingness to engage with public health provision. This study researched strength-based components of children's services policy, Getting It Right For Every Child, in maternity care in Scotland.
Subject and methods
Complex interventions, such as this policy, requires a methodology that captures complex dynamics. Consequently a realist-evaluation-informed case-study approach was adopted across three contrasting health boards comprised of: (1) interviews with women receiving maternity care with heightened risk profiles, (2) a sample of maternity care professionals responsible for implementing the policy and (3) document analysis of policy guidance and training materials.
Results
Whilst midwives reported adopting more open approaches to raising sensitive issues with women, many midwives were unfamiliar with strength-based approaches and were not drawing upon them, in contrast to a perception amongst managers that training and implementation was common.
Conclusion
These findings suggest implementation of strength-based approaches within universal services require further attention to training and embedding culture change.