01.12.2018 | Study protocol | Ausgabe 1/2018 Open Access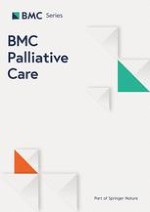 Strengthening primary health care teams with palliative care leaders: protocol for a cluster randomized clinical trial
Zeitschrift:
Autoren:

Joan Llobera, Noemí Sansó, Amador Ruiz, Merce Llagostera, Estefania Serratusell, Carlos Serrano, María Luisa Martín Roselló, Enric Benito, Eusebio J. Castaño, Alfonso Leiva
Abstract
Background
The objective of the Balearic Islands Palliative Care (PC) Program is to improve the quality of PC through a shared model consisting of primary health care professionals, home-based PC teams, and PC units in hospitals. According to the World Health Organization (WHO), patients with advanced cancer and other terminal diseases benefit from early identification and proactive PC. We will evaluate the effectiveness of an intervention in which a PC leader is established in the primary health care center, and assess the effect of this intervention on the early identification of patients in need of PC, the efficient use of health care services, and direct health care costs.
Methods
Design: A two-arm cluster randomized clinical trial of 30 Primary Health Care Centers (PHCC) in Mallorca (Spain), in which each center was randomized to an intervention arm or a usual care arm. We expect that the number of patients identified as suitable for PC (including non-oncological PC) is at least 5% greater in the intervention arm.
Sample size: A total of 4640 deceased patients. Outcomes will be assessed by a blinded external review of the electronic records.
Interventions: General practitioners (GPs) and nurse leaders in PC for each PHCC will be appointed. These leaders will help promote PC training of colleagues, improve symptom management and psychological support of patients, and evaluate the complexity of individual cases so that these cases receive assistance from PC home-based teams.
Measurements: Early identification (>90 days before death), evaluation of case complexity, level of case complexity (with referral to a home-based PC team), use and cost of hospital and primary care services, and quality of life during the last month of life (≥2 emergency room visits, ≥2 hospital admissions, ≥14 days of hospitalization).
Discusion
PC leaders in primary care teams will improve the early identification of patients eligible for PC. This initiative could improve the quality of end-of-life care and utilization of hospital resources.
Trial registration
ISRCTN Registry identifier:
ISRCTN92479122
. Retrospectively registered on 28 February 2017.