01.12.2016 | Integrative article | Ausgabe 1/2016 Open Access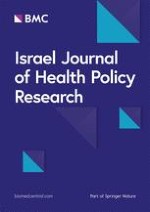 Strengthening the capacities of a national health authority in the effort to mitigate health inequity—the Israeli model
Zeitschrift:
Autoren:

Tuvia Horev, Shlomit Avni
Background
This article describes the basic assumptions that guided MoH in preparing its plans, presents the conceptual framework, and describes the focal points of intervention and the policy tools that the government used. It also addresses additional initiatives of relevance in narrowing health disparities that the government promoted but were not part of the aforementioned plan. Then, based on the Israeli experience, it proposes a generic national (and regional) concept for intervention, demonstrating ways in which prevalent approaches toward the issue of health inequality and ways of dealing with them may be translated into policy practice.
We hope that the Israeli experience as well as the generic conceptualization of the steps taken in Israel at the national level will contribute to policymakers' and government officials' knowledge and supply an additional perspective that, combined with their own experience and knowledge, will broaden their ability to confront the complicated task of transforming knowledge on health disparities into national-level policies and practices.
Discussion
This article sets forth the Israeli national plan to reduce health inequality. Instead of presenting the full minutiae of the plan, it lays out the conceptual framework and gives examples of the main focal points of intervention and the policy tools that are used to assimilate the policy chosen. The conceptual framework emphasizes the need to adopt a "midstream approach" and to concentrate mainly on aspects that fall within the responsibilities and the purview of a national health authority. Its aim is to strengthen the capacities of the healthcare system in coping with health disparities, focusing on six main themes and envisioning collaboration with agents of change by means of leverages and policy tools that will encourage them to act in accordance with the chosen policy.
The article challenges statements in the literature about factors that impede the attainment of an official, consistent, and coherent commitment to the reduction of inequality in healthcare systems. The Israeli case demonstrates that a national policy and an action plan adopted by the national health authority can enhance the capacity to cope with inequalities and ensure greater access to healthcare services by eliminating economic barriers, improving providers' cultural capacity, encouraging investments in peripheral areas and among target population groups, enhancing fairness through interventions that target health promotion and health services for underserved groups, promoting adequate representation of target groups in healthcare professions and managerial positions, boosting community empowerment; and further developing the quality and efficiency of services provided in peripheral areas and/or for target population groups at large.
The Israeli case shows that when a national health authority takes a leading position, it can create the needed political will, carry out the requisite budget earmarking, establish incentives for stakeholders, and promote abundant creativity and ideas for intervention to mitigate health inequalities. The foregoing account shows, in broad terms, that a national authority responsible for the population's health at the federal or national level has much room to address inequalities in the healthcare system without abandoning its commitment to continual efforts to deal with the social determinants of health inequality.
Although each country's healthcare system is unique, the main focal points of intervention presented here (e.g., accessibility, availability, quality and efficiency, and fairness), are common, as may be the principal stakeholders. Interventions and policy tools, however, should be selected very carefully in accordance with the values, structure, targets, and characteristics of each national system.
In view of the wide socioeconomic disparities that exist in Israel, however, MoH faces substantial challenges in its attempts to narrow health gaps. Given the long-term impact of any policy that tackles health inequality on health outcomes, no quick win is expected. Therefore, when one deals with health inequality, as with other public policies, sustaining an ongoing national plan such as the one described in this article in a reality of regular change in governments poses a challenge of its own—one that should not be taken for granted. As a matter of fact, in 2013, following elections in Israel and the establishment of a new government and the appointment of a new deputy minister of health
2
, MoH dropped the mitigation of health disparities as a specific strategic goal; instead, it integrated this objective into the overall goal of "health promotion." During a window of opportunity that opened between 2011 and 2013, however, MoH launched several initiatives that may serve as a sustainable platform for further progress in the future. They include, among others, establishing a dedicated unit for reducing inequality, creating a specialized research center, concluding a collective agreement between a professional association and the state that empowers physicians in the periphery, revising the capitation formula in ways that enhance health equity, setting standards and norms on cultural competence, producing a training kit to enhance providers' cultural competence, and setting up a translation call center; to name only a few.
In the Israeli case, additional challenges persist. They concern, in the main, leveraging the problem of inequity into a pan-governmental responsibility, improving horizontal and vertical integration ("horizontal" referring to cooperation among government ministries such as Welfare and Social Services, Education, the Economy, and Finance, and "vertical" meaning the co-optation of municipal authorities and district health centers as important players), and recruiting the public and civil society for the cause. Reinforcement of the public-health system, including an increase in public funding of healthcare, is also needed. Progress in these matters would also facilitate meaningful action to mitigate the effects of the social determinants of health.
The need for further research
Some of the activity reviewed in this article, took place at a time that one may describe as a 'window of opportunity'. It was just then that the senior professional stakeholder in this field at the Ministry of Health (MOH) initiated a meaningful change that fit the perspectives of the director general and acting minister (deputy minister at the time). Thus the cause was defined as an MOH strategic objective, by force of which policy was made and a dedicated plan was applied. Such a 'window of opportunity', however, may of course close or change; this happens when a change of Government results in the appointment of new ministers and director general or when public atmosphere changes. Indeed, after the Government, the Minister of Health, and the Director General were replaced, MOH did continue to promote action on health inequality in Israel but no longer defined it as one of its strategic objectives.
This study focused less on the process of making policy in the aforementioned field than on describing and analyzing the policy chosen, its rationale, and the interventions that the Government carried at the time. Nevertheless, the reasons and circumstances that pried the 'window of opportunity' open deserve to be researched. The nexus of an initiative that successfully implements a new public policy and astute exploitation of a window of opportunity is recognized in the scientific literature [
40
]. Thus, the Israeli story may serve as a test case for research that will make it possible to analyze, for example, the circumstances that catapulted the question of coping with health inequity to the decision-makers' agenda specifically in 2009; why the decision-makers adopted it; what significance this window of opportunity held; and whether policy in this field can be changed and applied on a similar scale under other circumstances. Each of these questions is an important one that merits thorough additional research. Generally speaking, it is noteworthy that the disparities described in the article between vast knowledge about health inequality and the mechanisms that produce it, and actual practice in dealing with it, probably relate not only to an implementation gap, tracing to the lack of practical proposals, but also to proposals on how to surmount obstacles that sometimes prevent a policy from being implemented—including barriers associated with detecting a 'window of opportunity' that opens or closes in response to diverse political, social, or economic circumstances. Thus, research on this topic, including the Israeli case among processes in other countries, may be meaningful in identifying the factors that inhibit or strengthen commitment to and implementation of a thorough, sustainable national policy to reduce health inequality.
Conclusion
A national health authority and other players in the healthcare system, operating by themselves, may be able to make only a relatively weak impact on the social determinants of health. Nevertheless, the very broad latitude that they enjoy within their official remit may result in a substantial positive impact on narrowing health inequalities. By commission and omission, the healthcare system can aggravate inequality; to the same extent, it can mitigate it. Even as the system acts within its purview, however, action on the social determinants should be taken in concert with others to set a long-term effort in motion. To bring this about, cooperation among ministries and higher government prioritization of the treatment of socioeconomic gaps will be needed.
It is premature to predict whether the processes launched in Isreal will persevere and be sustainable over the years and how they will impact health indicators in the long term. This matter deserves additional follow-up and research that will monitor outcomes in health and other domains, it being borne in mind that access to high quality healthcare services and lowering economic and cultural barriers are values that justify themselves even if their immediate impact on health outcomes is not proven.
The focal points of intervention presented in this article are not unique to Israel. In each country however, they may be differently expressed. Generally speaking, a national health authority can maximize its capacities to act within its own locus of control and find a way to carry out interventions that are geared to the narrowing of health disparities in accordance with the structure of its healthcare system, its challenges, and its dominant values—all of which, without relinquishing leadership in the struggle against the social determinants of health inequity.
Acknowledgements
We would like to thank Dr. Emma Averbuch of the Reduction of Health Inequalities Unit at the Strategic and Economic Planning Administration of the Israel Ministry of Health (MoH). Dr. Averbuch was the officer in charge of implementing the MoH strategic plan for the reduction of health inequities when the plan was initiated, and her contribution to the subject was and remains unprecedented. We also thank Nir Kaidar, Senior Deputy Director General for Strategic and Economic Planning at MoH, for his unique contribution and involvement in the design and implementation of policies aimed at mitigating health inequities.
Authors' contribution
Both authors made substantial contributions to the discussions on which this paper is based. The manuscript was initiated and drafted by Tuvia Horev; Shlomit Avni contributed critical revisions and gave final approval to the version submitted to IJHPR. Both authors read and approved the final manuscript.use.
Authors' information
Tuvia Horev is Associate Professor at the Department of Health Systems Management at the Guilford Glazer Faculty of Business and Management, Ben-Gurion University of the Negev, Israel.
Shlomit Avni directs the Reduction of Health Inequalities Unit at the Strategic and Economic Planning Administration of the Israel Ministry of Health and is a Ph.D. candidate at the Department of Politics and Government, Ben-Gurion University of the Negev. Her areas of special interest include health inequity, social determinants of health, and health policy.
Competing interests
Tuvia Horev served as Deputy Director General for Health Economics and Insurance and later as Senior Deputy General for Strategic and Economic Planning at the Ministry of Health (MoH) in March 2009–November 2014. He initiated the establishment of the Reduction of Health Inequalities Unit at MoH for the mitigation of inequality. Shlomit Avni is the current director of the Reduction of Health Inequalities Unit at the MoH Strategic and Economic Planning Administration. Between the end of 2003 and until July 2013, she directed the residents' department of Physicians for Human Rights, an NGO that specializes in the right to health and equality.
Open Access
This article is distributed under the terms of the Creative Commons Attribution 4.0 International License (
http://​creativecommons.​org/​licenses/​by/​4.​0/​
), which permits unrestricted use, distribution, and reproduction in any medium, provided you give appropriate credit to the original author(s) and the source, provide a link to the Creative Commons license, and indicate if changes were made. The Creative Commons Public Domain Dedication waiver (
http://​creativecommons.​org/​publicdomain/​zero/​1.​0/​
) applies to the data made available in this article, unless otherwise stated.
Footnotes
1
The information to be presented is based on [
10
] and gives only a few examples of the interventions that have been implemented.
2
Due to internal political circumstances, members of Israel's ultra-Orthodox parties do not hold ministerial portfolios but serve as deputies. In the new government, MoH has been run by the ultra-Orthodox representative, Rabbi Yaakov Litzman, as a deputy minister, with Prime Minister Benjamin Netanyahu officially holding the portfolio. Due to an appeal to the supreme, court, in the current government Raabbi Litzman is the Minister of Health.