01.12.2015 | Research article | Ausgabe 1/2015 Open Access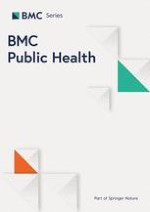 Strengths and limitations of a tool for monitoring and evaluating First Peoples' health promotion from an ecological perspective
Zeitschrift:
Autoren:

Kevin Rowley, Joyce Doyle, Leah Johnston, Rachel Reilly, Leisa McCarthy, Mayatili Marika, Therese Riley, Petah Atkinson, Bradley Firebrace, Julie Calleja, Margaret Cargo
Wichtige Hinweise
Competing interests
The authors declare that they have no competing interests.
Authors' contributions
KR drafted the manuscript with contributions from other authors and participated in data analysis. JD, LJ, MM, BF and PA undertook data analysis and interpretation. LMcC, RR, TR, JC and MC contributed to research program design, method development and data interpretation. All authors read and approved the final manuscript. Lead author KR is an Australian of Celtic-Anglo background with academic training in biochemistry and epidemiology and as such the narrative of this manuscript inevitably reflects his cultural influences, notwithstanding the input from the First Peoples and mainstream co-authors.
Authors' information
The authors of this article are from diverse backgrounds, geographies and disciplines, and include First Peoples and mainstream researchers and practitioners with training and experience in health promotion, health service management, epidemiology, nutrition, psychology, information technology, social justice activism, public health and program evaluation.
Abstract
Background
An ecological approach to health and health promotion targets individuals and the environmental determinants of their health as a means of more effectively influencing health outcomes. The approach has potential value as a means to more accurately capture the holistic nature of Australian First Peoples' health programs and the way in which they seek to influence environmental, including social, determinants of health.
Methods
We report several case studies of applying an ecological approach to health program evaluation using a tool developed for application to mainstream public health programs in North America – Richard's ecological coding procedure.
Results
We find the ecological approach in general, and the Richard procedure specifically, to have potential for broader use as an approach to reporting and evaluation of health promotion programs. However, our experience applying this tool in academic and community-based program evaluation contexts, conducted in collaboration with First Peoples of Australia, suggests that it would benefit from cultural adaptations that would bring the ecological coding procedure in greater alignment with the worldviews of First Peoples and better identify the aims and strategies of local health promotion programs.
Conclusions
Establishing the cultural validity of the ecological coding procedure is necessary to adequately capture the underlying program activities of community-based health promotion programs designed to benefit First Peoples, and its collaborative implementation with First Peoples supports a human rights approach to health program evaluation.