01.12.2011 | Research | Ausgabe 1/2011 Open Access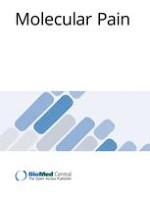 Streptozotocin-Induced Early Thermal Hyperalgesia is independent of Glycemic State of Rats: Role of Transient Receptor Potential Vanilloid 1(TRPV1) and Inflammatory mediators
Zeitschrift:
Autoren:

Mahendra Bishnoi, Christine A Bosgraaf, Mruvil Abooj, Linlin Zhong, Louis S Premkumar
Wichtige Hinweise
Electronic supplementary material
The online version of this article (doi:
10.​1186/​1744-8069-7-52
) contains supplementary material, which is available to authorized users.
Authors' contributions
MB performed the drug administration and immunofluorescence and drafted the manuscript. CB performed the behavioral tests. MA and LZ performed the ELISA. LP designed the study and drafted the manuscript. All authors read and approved the final manuscript.
Abbreviations
DPN
Diabetic Peripheral Neuropathy
EPSC
Excitatory Post Synaptic Currents
ERK
Extracellular Signal-regulated Protein Kinase
MAPK
Mitogen Activated Protein Kinase
Background
This study was undertaken to investigate the role of TRPV1 expressed in the central sensory nerve terminals of the spinal cord following intraperitoneal administration of STZ. We have found that STZ-induced thermal and mechanical hyperalgesia were independent of glycemic state of the animal. STZ exerted a direct effect by inducing enhanced expression of TRPV1 and a resultant increase in TRPV1-mediated neuropeptide release. STZ also caused microglial activation in the spinal cord and increased the levels of inflammatory mediators. Intrathecal administration of RTX decreased TRPV1-mediated neuropeptide release and alleviated thermal hypersensitivity without affecting mechanical hypersensitivity.
Results
Discussion
Conclusions
In conclusion, we have shown in this study that STZ, independent of its ability to cause β-cell damage and hyperglycemia, can cause activation of microglia, and release pro-inflammatory agents in spinal dorsal horn. This further enhanced the expression of TRPV1 and influx of Ca 2+, leading to the development of central sensitization and contributes to thermal hyperalgesia. Attenuation of thermal hyperalgesia and TRPV1-mediated CGRP release by intrathecal administration of RTX confirm the role of TRPV1 in STZ-induced inflammatory thermal hyperalgesia.
Methods
STZ-administration
All procedures used in this study were approved by the animal care and use committee at Southern Illinois University, School of Medicine, and conformed according to National Institutes of Health and institutional guidelines. Experiments were conducted on male Sprague Dawley (275-300 g) rats purchased from Harlan laboratories (Indianapolis, IN, USA). Rats were housed in specific pathogen-free barrier animal facility, and rodent laboratory chow (Laboratory Diet 5001; Nutrition International, Inc., Brentwood, MO) and drinking water were provided ad libitum. Rat housing was maintained on a 12-h light/dark cycle at an ambient temperature of 22 ± 1°C. Freshly prepared STZ (55 mg/kg) in saline (pH 4.5 with 0.1 N citrate buffer) was injected intraperitoneally as described previously [
12
,
62
]. Vehicle rats (n = 10) received citrate buffered saline alone. In first set of experiments, 20 animals were injected with STZ. Two days after STZ injection, animals were divided in three different groups on the basis of blood glucose levels; vehicle (control animals treated with saline), STZ-hyperglycemic (STZ-HG) (blood glucose level > 300 mg/dl) and STZ-normoglycemic (STZ-NG) (blood glucose level < 120 mg/dl). After 5 week of blood glucose level measurements and behavioural pain testing (per week) the animals were sacrificed to carry out
in-vitro
studies. In second set of experiments, 20 animals were injected STZ to study the effect of RTX on STZ-induced hyperalgesia. Glucose levels were determined with an OneTouch Ultra blood glucose monitoring system (LifeScan, Milpitas, CA) using whole blood obtained from the tail.
RTX-administration
The experimental procedures especially in reference to animals not experiencing unnecessary discomfort, distress, pain or injury have been approved by the Southern Illinois University School of Medicine Institutional Animal Care and Use committee review panel in accordance with the Panel of Euthanasia of American Veterinary Medical Association. Two days after STZ injection animals were divided in three different groups as described previously. Animals were tested for thermal and mechanical sensitivities for 2 weeks (once/week). After 2 weeks, rats in STZ-HG and STZ-NG groups received intrathecal (L4/L5 intraspinal space) injection of 2 μg/kg/20 μl of RTX in saline under isoflurane anesthesia (2% oxygen) [
29
,
63
]. Control group received a corresponding volume of vehicle. All the rats were acclimatized to the test conditions 1 hour/day for 5 days before starting the experiments.
Behavioural assays
Measurement of thermal sensitivity
Thermal nociceptive responses were determined using a plantar test instrument (Ugo Basile, Camerio, Italy). The rats were habituated (15 minutes acclimation period) to the apparatus that consisted of three individual Perspex boxes on a glass table. A mobile radiant heat source was located under the table and focused onto the desired paw. Paw withdrawal latencies (PWLs) were recorded three times for each hind paw and the average was taken as the baseline value. A timer was automatically activated with the light source, and response latency was defined as the time required for an abrupt withdrawal of the paw. The apparatus has been calibrated to give a normal PWL of approximately 10-12 s. In order to prevent tissue damage, an automatic cut-off at 20 s was set.
Measurement of mechanical sensitivity
Mechanical nociceptive responses were assessed using a dynamic plantar anesthesiometer instrument using von Frey hairs (Ugo Basile, Camerio, Italy). Each rat was placed in a chamber with a metal mesh floor and was habituated (15 minutes acclimation period) to the apparatus. A 0.5 mm diameter von Frey probe was applied to the plantar surface of the rat hind paw with pressure increasing by 0.5 g/s and the pressure at which a paw withdrawal occurred was recorded and this was taken as Paw Withdrawal Threshold (PWT). For each hind paw, the procedure was repeated 3 times and the average pressure to produce withdrawal was calculated. Successive stimuli were applied to alternating paws at 5 min intervals. All the experiments involving behavioral studies were performed by the experimenter who was unaware of treatments.
Immunostaining
Five weeks after STZ injections, immunofluorescence labeling of TRPV1 receptors and OX-42 (microglial marker) in spinal dorsal horn was performed on three vehicle-treated, three STZ-HG and three STZ-NG rats to determine the effect of STZ administration on TRPV1 receptor expression and microglial activation in spinal dorsal horns. Rats were deeply anesthetized with i.p. injection of ketamine (85 mg/kg) and xylazine (5 mg/kg) and perfused intracardially with 100 ml ice-cold normal saline followed by 150 ml 4% paraformaldehyde in 0.01 M PBS (pH 7.4). The lumbar segment of the spinal cord were quickly removed and post-fixed for 2 hr in the same fixative solution and cryoprotected in 20% sucrose in 0.01 M PBS for 24 hr at 4°C. Following cryoprotection, 15 μm sections were cut from lumbar portion of spinal cords using a microtome (Leica CM 1850, North Central Instruments Inc, Plymouth MN, USA).
For TRPV1 receptor and microglial marker (OX-42) immunostaining, the sections were rinsed in 0.1 M PBS and permeated with 1% triton X in 0.01 M PBS for 30 minutes. The sections were then blocked in 10% normal donkey serum in PBS for another 30 minutes. The sections were then incubated overnight with the primary antibody (TRPV1: Guinea anti-TRPV1 N terminal (dilution 1:1000) Neuromics, Minneapolis, MN, USA and microglial activation marker: Mouse anti-CD11b (OX-42) (dilution 1:100), Novus Biologicals, Littleton, CO, USA) diluted in PBS containing 1% normal donkey serum, 0.1% Triton X-100. Subsequently, sections were rinsed in PBS and incubated (1 hour) with the secondary antibody (Rhodamine donkey anti guinea pig IgG (dilution 1:50), Jackson Immunoresearch Laboratories, PA, USA) diluted in PBS containing 1% normal donkey serum, 0.1% Triton X-100. Sections were washed and fixed. A confocal microscope (Specifications: Intensity-20%, Gain-1(4 for microglia slides), Zoom-1, Offset-0, Scan speed-150-160 seconds, Filter and color tool-normal) was used to view the sections, and areas of interest were photo documented and quantified. The results were expressed as average gray value/10,000 μm square area. Three to five sections from 3 different animals were analyzed.
Neuropeptide release assays
Tissue preparation
Five weeks after STZ injections, five rats from each group i.e. vehicle-treated, STZ-HG, STZ-NG, STZ-HG RTX treated, STZ-NG RTX treated were anesthetized using isoflurane (5%) and oxygen. Spinal cord was collected quickly by hydraulic method. Lumbar portion of spinal cord were collected and washed for 30 min in synthetic interstitial fluid (SIF) (107.8 mM NaCl, 26.2 mM NaCO 3, 9.64 mM Na-gluconate, 7.6 mM sucrose, 5.05 mM glucose, 3.48 mM KCl, 1.67 mM NaH 2PO 4, 1.53 mM CaCl 2, 0.69 MgSO 4) gassed with 95% oxygen and 5% carbon dioxide at 32°C. Three segments each of 0.10 g (range 0.05-0.15 g) from lumbar spinal cord of each animal were taken for further elution studies (Bishnoi et al., 2011).
Elution procedures and stimulation
A series of 3 glass tubes were filled with 0.5 ml SIF each and positioned in a temperature controlled (32°C) shaking bath. The release experiment was started by transferring the mounted spinal cord segments into the first tube. After 5 min incubation, tissues were transferred to the second tube for another 5 min and then moved to the third tube containing capsaicin (10
-5
M, (8-methyl-
N
-vanillyl-6-nonenamide, Sigma Aldrich, St Louis, MO, USA) for 5 minutes. Capsaicin was prepared as stock solutions in ethanol (100 m
M
for capsaicin) and diluted to desired concentrations using physiological solution prior to the experiments. The control experiments were performed with the equivalent amounts of the solvent. All the solutions were freshly prepared before the experiments.
Enzyme immunoassays
For CGRP release assay, 100 μl of elutes were taken from each tube. Spinal cord elutes were further centrifuged at 2000 rpm for 10 minutes. Samples were mixed immediately after the incubation with 400 μl (1:4 dilution) of commercial CGRP EIA buffer containing several protease inhibitors. The CGRP content was determined immediately after the end of the experiment using commercially available enzyme immunoassays (CGRP: Bertin Pharma (formerly SPlbio), France, limit of detection = 0.7 pg/ml, range = upto 500 pg/ml). All EIA plates were determined photometrically using a microplate reader.
Measurement of pro-inflammatory mediators in spinal cord homogenates
Five weeks after STZ injections, five rats from each group (vehicle treated, STZ-HG and STZ-NG) were sacrificed. Spinal cord from each animal was collected quickly by hydraulic method. Lumbar portion of spinal cord were collected and cut into pieces. Tissues were homogenized in cell-lysis buffer using hand homogenizer and centrifuged. The supernatant was collected to measure the levels of pro-inflammatory mediators (IL-1β, IL-6, TNF-α) using respective ELISA kits (IL-1β, IL-6, TNF-α: Rat IL-1β ELISA kit, Rat IL-6 ELISA kit and Rat TNF-α ELISA kit were purchased from Invitrogen Corporation, Camarillo, CA, USA) following manufacturer instructions.
Statistical analysis
Statistical analysis was performed using SPSS software. Data are presented as mean ± SEM. Descriptive one way analysis of variance (ANOVA) was used to compare PWL and PWT at given time point for vehicle and/or STZ and/or RTX treated animals. Descriptive one way ANOVA followed by post hoc Tukey's HSD was used to compare more than 2 groups. A p value of < 0.05 was considered as statistically significant.
Conflict of interests
The authors declare that they have no competing interests.
Acknowledgements
This work was supported by grants from National Institutes of Health (DA028017) and EAM award from SIUSOM.
Authors' contributions
MB performed the drug administration and immunofluorescence and drafted the manuscript. CB performed the behavioral tests. MA and LZ performed the ELISA. LP designed the study and drafted the manuscript. All authors read and approved the final manuscript.