01.12.2018 | Research | Ausgabe 1/2018 Open Access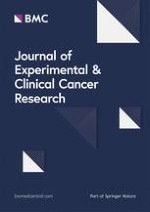 Stress-inducible Protein-1 promotes metastasis of gastric cancer via Wnt/β-catenin signaling pathway
Zeitschrift:
Autoren:

Linlin Huang, Ertao Zhai, Shirong Cai, Yi Lin, Junbin Liao, Huilin Jin, Sui Peng, Lixia Xu, Minhu Chen, Zhirong Zeng
Wichtige Hinweise
Electronic supplementary material
Abstract
Background
Stress-Inducible Protein-1 (STIP1) is a co-chaperone that associates directly with heat shock proteins, and regulates motility of various types of cancer. In the present study, we investigated the role of STIP1 on metastasis of gastric cancer (GC).
Methods
In vivo metastatic experimental model was employed to investigate the effect of STIP1 on metastasis of GC cells. Loss-of-function and gain-of-function experiments were performed to examine the role of STIP1 on metastasis of GC cells. Western blot, immunofluorescence staining, migration and invasion assays, microarray and KEGG pathway analysis were applied to explore the underlying mechanism.
Results
In current study, we demonstrated that STIP1 promoted lung metastasis of GC cells in vivo. Furthermore, STIP1 significantly enhanced migration and invasion abilities of GC cells. In contrast, knock-down of STIP1 yielded the opposite effects on these phenotypes in vitro. STIP1 promoted tumor metastasis through inducing epithelial-to-mesenchymal transition in GC cells. Mechanistically, STIP1 promoted GC metastasis via up-regulation of targeted genes in Wnt/β-catenin signaling pathway, including c-Myc and Cyclin D1, and accompanied with nuclear translocation of β-catenin.
Conclusions
Our findings indicate that elevated expression of STIP1 exhibited a metastasis-promoting effect in GC cells through activation of Wnt/β-catenin signaling pathway. STIP1 may be served as a potential therapeutic target for preventing GC metastasis.