22.02.2019 | Clinical trial | Ausgabe 2/2019 Open Access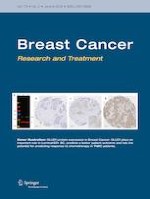 Strong impact of MammaPrint and BluePrint on treatment decisions in luminal early breast cancer: results of the WSG-PRIMe study
Zeitschrift:
Autoren:

R. Wuerstlein, R. Kates, O. Gluz, E. M. Grischke, C. Schem, M. Thill, S. Hasmueller, A. Köhler, B. Otremba, F. Griesinger, C. Schindlbeck, A. Trojan, F. Otto, M. Knauer, R. Pusch, N. Harbeck, WSG-PRIMe investigators in Germany, Austria, Switzerland
Abstract
Purpose
The WSG-PRIMe Study prospectively evaluated the impact of the 70-gene signature MammaPrint® (MP) and the 80-gene molecular subtyping assay BluePrint® on clinical therapy decisions in luminal early breast cancer.
Methods
452 hormone receptor (HR)-positive and HER2-negative patients were recruited (N0, N1). Physicians provided initial therapy recommendations based on clinicopathological factors. After prospective risk classification by MammaPrint/BluePrint was revealed, post-test treatment recommendations and actual treatment were recorded. Decisional Conflict and anxiety were measured by questionnaires.
Results
Post-test switch (in chemotherapy (CT) recommendation) occurred in 29.1% of cases. Overall, physician adherence to MP risk assessment was 92.3% for low-risk and 94.3% for high-risk MP scores. Adherence was remarkably high in "discordant" groups: 74.7% of physicians initially recommending CT switched to CT omission following low-risk MP scores; conversely, 88.9% of physicians initially recommending CT omission switched to CT recommendations following high-risk MP scores. Most patients (99.2%) recommended to forgo CT post-test and 21.3% of patients with post-test CT recommendations did not undergo CT; among MP low-risk patients with pre-test and post-test CT recommendations, 40% did not actually undergo CT. Luminal subtype assessment by BluePrint was discordant with IHC assessment in 34% of patients. Patients' State Anxiety scores improved significantly overall, particularly in MP low-risk patients. Trait Anxiety scores increased slightly in MP high risk and decreased slightly in MP low-risk patients.
Conclusions
MammaPrint and BluePrint test results strongly impacted physicians' therapy decisions in luminal EBC with up to three involved lymph nodes. The high adherence to genetically determined risk assessment represents a key prerequisite for achieving a personalized cost-effective approach to disease management of early breast cancer.