01.12.2017 | Research | Ausgabe 1/2017 Open Access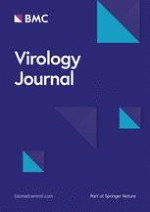 Structure and transcription of the
Helicoverpa armigera densovirus

(HaDV2) genome and its expression strategy in LD652 cells
Zeitschrift:
Autoren:

Pengjun Xu, Robert I. Graham, Kenneth Wilson, Kongming Wu
Wichtige Hinweise
Electronic supplementary material
The online version of this article (doi:
10.​1186/​s12985-017-0691-y
) contains supplementary material, which is available to authorized users.
Abbreviations
ICTV
The international committee on taxonomy of viruses
pI
Theoretical isoelectric point
Background
The subfamily of
Densovirinae
within the family
Parvoviridae
is a group of small (18–26 nm diameter), non-enveloped, icosahedral viruses containing a linear single-stranded DNA genome ranging between 4 and 6 kb with characteristic terminal hairpins [
1
–
3
]. Members of this subfamily typically produce "cellular dense nucleosis" pathogenesis in their hosts, hence, they are commonly termed densoviruses (DVs) [
4
–
8
]. Since the first identification of a densovirus in the greater wax moth
Galleria mellonella
[
9
], DVs have been isolated from many arthropods, including species from six insect orders (Lepidoptera, Diptera, Orthoptera, Dictyoptera, Odonata and Hemiptera) and decapod crustaceans (shrimps and crabs) [
10
–
12
].
To date, many DVs have been identified and sequenced. Unlike vertebrate parvoviruses, which all exhibit a monosense organization of their genome with nonstructural protein (NS) and structural protein (VP) open reading frames (ORFs) located on the same strand, arthropod DVs possess two types of genomes: monosense and ambisense [
13
–
18
]. Previously, the taxonomy of DVs was ambiguous, which was based on the organization of coding sequences, as well as genome size, terminal hairpin structure, gene expression strategy and host range [
19
]. Under the proposal of the International Committee on Taxonomy of Viruses (ICTV), Cotmore et al. [
2
] reconstructed the taxonomy of the family
Parvoviridae
in which DVs were classified into five distinct genera:
Ambidensovirus
,
Brevidensovirus, Iteradensovirus, Hepandensovirus
and
Penstyldensovirus
according to phylogenetic analysis and sequence homology.
DVs are highly pathogenic viruses to their hosts, and have been documented as being transmitted both horizontally and vertically [
7
,
9
,
16
]. Traditionally, these properties have captured the interest of many researchers investigating the potential application of DVs as biopesticides for biological control of insect pests or vectors for transgenic insects [
20
–
26
]. However, we previously reported a novel DV displaying a mutualistic interaction with its host (
Helicoverpa armigera
), and named this virus HaDV2 (previously named HaDNV-1) to distinguish it from the HaDV1 reported by El-Far et al. [
27
–
29
]. In this current study, we report the genome organization, transcription and expression strategies of the virus HaDV2.
Methods
Results
Discussion
Conclusion
We report a novel densovirus, assigned as HaDV2, which differs from the other DVs in its genome organization, terminal hairpin structure, and transcription and expression strategies. Taken together with the unique mutualistic relationship previously described between HaDV2 and its host [
29
], this strongly indicates that HaDV2 is a novel member within the genus
Iteradensovirus
.
Acknowledgements
We would like to thank Dr. Jie Wang (Tobacco Research Institute, Chinese Academy of Agricultural Sciences, Qingdao, P.R. China) and Dr. Peng Xu (Central China Normal University, Wuhan, P.R. China) for providing suggestions and repairing figures.
Funding
This research was supported by Science Fund for Creative Research Groups of the National Science Foundation of China (Grant No. 31321004), the National Natural Science Foundation of China (Grant No. 31401752).
Authors' contributions
KWu and PX conceived the study. PX performed the experiments. KWu, PX, RIG and KWi wrote the manuscript. All of the authors critically reviewed and approved the final manuscript.
Competing interests
The authors declare that they have no competing interests.
Consent for publication
Not applicable.
Ethics approval and consent to participate
No permit was required to collect the tested the virus in insect. Sampling did not involve regulated, endangered or protected species.
Open Access
This article is distributed under the terms of the Creative Commons Attribution 4.0 International License (
http://​creativecommons.​org/​licenses/​by/​4.​0/​
), which permits unrestricted use, distribution, and reproduction in any medium, provided you give appropriate credit to the original author(s) and the source, provide a link to the Creative Commons license, and indicate if changes were made. The Creative Commons Public Domain Dedication waiver (
http://​creativecommons.​org/​publicdomain/​zero/​1.​0/​
) applies to the data made available in this article, unless otherwise stated.