21.01.2019 | Wissenschaft für die Kitteltasche | Ausgabe 1/2019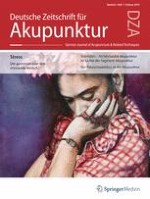 Studienlage zur Wirksamkeit von Akupunktur bei "Sucht" – Teil 2
Zeitschrift:
Autor:

Christoph Colling
Wichtige Hinweise
Suchstrategie auf PubMed: (acupuncture OR acupressure) AND (dependency OR dependence OR substance use OR substance abuse OR addiction) AND (review OR meta-analysis OR RCT OR study).
Nur englische/deutsche Publikationen; Update der Suche zuletzt am 17.08.2018.
Zunächst Suche nach Übersichtsarbeiten und von diesen nicht abgedeckten Zeiträumen aktuellere kontrolliert randomisierte Einzelstudien.
Für "abhängige Verhaltensweisen": (acupuncture OR acupressure) AND (hypersexuality OR gambling OR gaming OR addictive behavior OR behavioral addiction).
Auswahl lediglich von Artikeln, welche tatsächlich die Therapie von schädlichem Substanzgebrauch bzw. abhängigem Verhalten beim Menschen mittels Akupunktur und verwandter Verfahren zum Thema hatten (keine ausschließlich grundlagenwissenschaftlichen Artikel, Tiermodelle etc.).
Ohne Zusammenfassung