29.05.2018 | Originalien | Ausgabe 3/2018 Open Access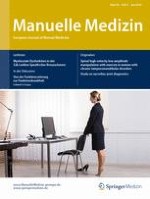 Study on sacroiliac joint diagnostics
Reliability of functional and pain provocation tests
Zeitschrift:
Autoren:

Wolfgang von Heymann, Horst Moll, Geraldine Rauch
Abstract
Background
As there is currently no gold standard for the diagnosis of SIJ dysfunction, a broad variety of tests exist to clinically identify pelvic girdle pain caused by reversible SIJ dysfunction. Some of the pain provocation tests have already been evaluated. However, the tests used by the majority of German physicians competent in manual medicine (MM) have not yet been evaluated. Therefore, such an evaluation is necessary.
Objective
The aims of the study were to evaluate the reliability of functional and pain provocation tests used in SIJ diagnostics, and to propose a useful set of reliable tests.
Methods
Two raters investigated 161 subjects (81 symptomatic with low back pain, 80 asymptomatic controls) in a blinded setting, each with a set of three functional and six pain provocation tests. Three of the pain provocation tests had already been evaluated and these were used for comparison with the non-evaluated tests.
Results
The Cohen's kappa coefficients of the newly evaluated tests were better (κ = 0.76–1.00) than those of the previously evaluated tests (κ = 0.65–0.89). The functional tests had a lower κ‑coefficient and an overly wide confidence interval (CI), and were thus evaluated as being not reliable and only suitable as screening tests.
Conclusions
The pain provocation tests, which use palpable irritation deep in the gluteal muscles with provocation in two planes, are at least as reliable as the already evaluated tests. We recommend adding SIJ irritation point diagnostics to the set of "3 out of 5 positive pain provocation tests" for safe diagnosis of SIJ dysfunction.