01.12.2018 | Study protocol | Ausgabe 1/2018 Open Access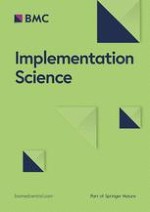 Study protocol: a cluster-randomized trial implementing Sustained Patient-centered Alcohol-related Care (SPARC trial)
Zeitschrift:
Autoren:

Joseph E. Glass, Jennifer F. Bobb, Amy K. Lee, Julie E. Richards, Gwen T. Lapham, Evette Ludman, Carol Achtmeyer, Ryan M. Caldeiro, Rebecca Parrish, Emily C. Williams, Paula Lozano, Katharine A. Bradley
Wichtige Hinweise
Electronic supplementary material
Abbreviations
AUDIT-C
Alcohol use Disorders Identification Test-Consumption
CSSRS
Columbia Suicide Severity Rating Scale
DSM-5
Diagnostic and Statistical Manual
, 5th edition
ICD-9
International Classification of Diseases codes, 9th edition
KPWA
Kaiser Permanente Washington
KPWHRI
Kaiser Permanente Washington Health Research Institute
LICSW
Licensed independent clinical social worker
NCQA
US National Committee for Quality Assurance
NLP
Natural language processing
PHQ-2
Two-item Patient Health Questionnaire depression screen
PHQ-9
Nine-item Patient Health Questionnaire depression screen
SAMHSA
Substance Abuse and Mental Health Services Administration
SBI
Screening and brief intervention
SPARC
Sustained Patient-centered Alcohol-related Care
Background
Methods/design
Discussion
If implementation succeeds at implementing SBI and increasing diagnosis and treatment of AUD in the SPARC trial, findings of this trial will help other systems wishing to implement alcohol-related care in PC. This study will create a roadmap and make widely available online tools to help other healthcare organizations improve the quality of alcohol-related care. We will disseminate findings via AHRQ's online site for integrating behavioral health and PC [
73
] as well as via our own research website.
Strengths and limitations
A significant strength of this pragmatic trial is that it evaluates a range of outcomes using secondary data. This strategy does not rely on patient interviews, which yield smaller, biased samples and impose significant recruitment and consent burdens and survey costs. However, this design introduces other limitations. Primary outcomes are defined based on EHR documentation and assumed to be absent if EHR documentation is lacking. We use an NLP measure of brief intervention based on templates because clinical leaders wanted to focus providers on offering brief counseling or advice rather than standardized documentation by "clicking a box" in the EHR [
50
]. However, resources were insufficient to develop and validate an NLP measure of any alcohol-related advice or counseling in the EHR. We therefore use text from repeated EHR templates identified with NLP and coded as brief intervention. Although most clinicians use or develop templates to speed frequent documentation, this approach to measurement likely underestimates brief intervention. Moreover, documentation does not reflect the quality of the discussion about alcohol, and whether the discussion included explicit advice to cut down or abstain [
74
]. Secondary data are being sought to use a 2017 Washington State Health Alliance survey [
75
] that includes KPWA and included a previously used patient-report measure of brief intervention [
43
], to compare rates of patient-reported alcohol-related advice in KPWA sites surveyed before, during, and after SPARC implementation. In addition, the primary outcome measure for AUD treatment is defined based on ICD codes and time frames used for NCQA's HEDIS measures for AUD treatment. Documentation of an AUD ICD code is assumed to represent AUD treatment. We use this definition for AUD treatment to maximize relevance to healthcare systems. However, documentation of an ICD codes for AUD is not an indicator of AUD treatment, as AUD ICD-9 or ICD-10 codes can be used in billing for a medical visit any time the condition is relevant to care (e.g., if a condition impacts care of another condition). Therefore, secondary analyses will assess a more stringent definition of AUD treatment [
43
,
74
]. Moreover, while patients may underreport their alcohol use or their symptoms in clinical care, many patients do not [
62
]. Finally, this study was limited to adults visiting family medicine clinics. Future research is needed to determine the optimal approach to implementing alcohol-related care for adolescents less than 18 years old.
Conclusion
Alcohol is the third greatest cause of disability and death in the USA [
5
,
76
,
77
], but prevention and treatment of unhealthy alcohol use has not historically been integrated into routine medical care. With evidence-based interventions for unhealthy alcohol use available, experts now realize the crucial step is providing screening and treatment in routine medical settings [
78
–
83
]. Developing an effective set of strategies to implement and sustain evidence-based alcohol-related care, testing them in a pragmatic trial, and disseminating the results widely, has the potential to transform healthcare practice to address the full spectrum of unhealthy alcohol use in PC settings.
Acknowledgements
The authors would like to thank the leaders and clinicians of Kaiser Permanente Washington who supported or participated in this pilot, including Medical Director of Behavioral Health Services Larry Marx, and Tory Gildred. We also acknowledge Eric Goemer for the assistance in preparing the manuscript and figures. Finally, we would like to thank the Kaiser Permanente Washington patients.
Funding
The Agency for Healthcare Research and Quality (AHRQ) R18 HS023173 provided the funding for this study. The Group Health Foundation and Kaiser Permanente Washington Health Research Institute Development Fund also contributed to the funding. Dr. Glass was supported by the National Institutes of Health Extramural Loan Repayment Program for Health Disparities Research (L60 MD009373) and a Mentored Research Scientist Development Award (K01 AA023859). Dr. Bradley was supported by a National Institutes of Health Midcareer Investigator Award (K24 AA022128). The funding body had no role in the design of the study and collection, analysis, and interpretation of data and in writing the manuscript.
Ethics approval and consent to participate
Ethics approval was granted by the Kaiser Permanente Washington Health Research Institute Human Subjects Committee, approval number IRBnet 710232.
Consent for publication
Not applicable.
Competing interests
The authors declare that they have no competing interests.
Publisher's Note
Springer Nature remains neutral with regard to jurisdictional claims in published maps and institutional affiliations.
Open Access
This article is distributed under the terms of the Creative Commons Attribution 4.0 International License (
http://​creativecommons.​org/​licenses/​by/​4.​0/​
), which permits unrestricted use, distribution, and reproduction in any medium, provided you give appropriate credit to the original author(s) and the source, provide a link to the Creative Commons license, and indicate if changes were made. The Creative Commons Public Domain Dedication waiver (
http://​creativecommons.​org/​publicdomain/​zero/​1.​0/​
) applies to the data made available in this article, unless otherwise stated.