01.12.2015 | Study protocol | Ausgabe 1/2015 Open Access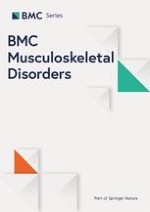 Study protocol: a randomised controlled trial comparing the long term effects of isolated hip strengthening, quadriceps-based training and free physical activity for patellofemoral pain syndrome (anterior knee pain)
Zeitschrift:
Autoren:

Alexandra Hott, Sigurd Liavaag, Niels Gunnar Juel, Jens Ivar Brox
Wichtige Hinweise
Competing interests
The authors declare that they have no competing interests.
Authors' contributions
AH, SL, JIB, NGJ have conceived and designed the trial protocol. All authors have contributed to the manuscript and have read and approved the final manuscript.
Abstract
Background
Patellofemoral pain syndrome (PFPS), also known as Anterior Knee Pain, is a common cause of recurrent or chronic knee pain. The etiology is considered to be multifactorial but is not completely understood. At the current time the leading theory is that pathomechanics in the patellofemoral joint leads to PFPS. Traditionally, conservative treatment has focused on improving strength and timing in the quadriceps muscles. In recent years, evidence has been accumulating to support the importance of hip control and strengthening in PFPS. Two recent studies have shown promising results for hip strengthening as an isolated treatment for PFPS. The aim of this randomised contolled trial (RCT) is to compare isolated hip strengthening to traditional quadriceps-based training and a control group with free physical activity.
Methods/Design
An observer-blinded RCT will be performed. We intend to include 150 patients aged 16–40 years, referred from primary care practitioners to the department of Physical Medicine and Rehabilitation in Kristiansand, Norway for PFPS with more than three months duration. Patients meeting the inclusion criteria will be randomised using opaque sequentially numbered sealed envelopes to one of three groups: isolated hip strengthening, quadriceps based training, or a control group (free physical activity). All groups will receive standardized information about PFPS formulated with the intention to minimize fear avoidance and encourage self-mastery of symptoms. Standardized exercises will be performed under supervision of a study physiotherapist once per week in addition to home training two times per week for a total of six weeks. The primary outcome measure will be the Anterior Knee Pain Score (AKPS) at three and 12 months. Secondary outcome measures will include Visual analogue scale (VAS) for pain, hip abductor and quadriceps strength, the generic EuroQol (EQ-5D), Hopkins Symptom Checklist (HSCL), Knee self-efficacy score and Tampa score for Kinesiophobia.
Discussion
This trial will help to elucidate the role of hip and quadriceps strengthening in the treatment of PFPS. Information as to the role of anxiety and depression, kinesiophobia and self-efficacy will be collected, also as regards prognosis and response to exercise therapy.