01.12.2017 | Study protocol | Ausgabe 1/2017 Open Access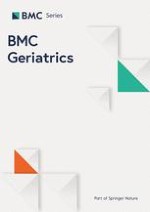 Study protocol for the SOFIA project: Swallowing function, Oral health, and Food Intake in old Age: a descriptive study with a cluster randomized trial
Zeitschrift:
Autoren:

Patricia Hägglund, Lena Olai, Katri Ståhlnacke, Mona Persenius, Mary Hägg, Maria Andersson, Susanne Koistinen, Eva Carlsson
Abstract
Background
Extensive studies have shown that older people are negatively impacted by impaired eating and nutrition. The abilities to eat, enjoy food, and participate in social activities associated with meals are important aspects of health-related quality of life (HRQoL) and recovery after illness. This project aims to (
i
) describe and analyze relationships between oral health and oral HRQoL, swallowing ability, eating ability, and nutritional risk among older individuals admitted to short-term care; (
ii
) compare the perceptions that older individuals and staff report on care quality related to oral hygiene and eating; and (
iii
) study the feasibility and effects of a training program for people with impaired swallowing (i.e., dysphagia).
Methods/Design
This project consists of two parts, which will be performed in five Swedish counties. It will include approximately 400 older individuals and 200 healthcare professionals. Part 1 is a cross-sectional, descriptive study of older people admitted to short-term care. Subjects will be assessed by trained professionals regarding oral health status, oral HRQoL, eating and nutritional risk, and swallowing ability. Swallowing ability will be measured with a teaspoon test and a swallowing capacity test (SCT). Furthermore, subjects and staff will complete a questionnaire regarding their perceptions of care quality.
Part 2 is a cluster randomized intervention trial with controls. Older participants with dysphagia (i.e., SCT <10 ml/s, measured in part 1) will be recruited consecutively to either the intervention or control group, depending on where they were admitted for short-term care. At baseline, all subjects will be assessed for oral health status, oral HRQoL, eating and nutritional risk, swallowing ability, and swallowing-related QoL. Then, the intervention group will receive 5 weeks of training with an oral screen for neuromuscular training focused on orofacial and pharyngeal muscles. After completing the intervention, and at six months post-intervention, all assessments will be repeated in both study groups.
Discussion
The results will make important contributions to rehabilitation knowledge, including approaches for improving swallowing function, oral health, and food intake and for improving the quality of oral care for older people.
Trial registration
This trial was retrospectively registered at ClinicalTrials.gov, on July 4, 2016, identifier:
NCT02825927
.