01.12.2012 | Research | Ausgabe 1/2012 Open Access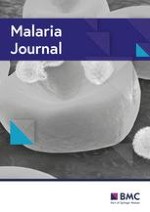 Sub-optimal delivery of intermittent preventive treatment for malaria in pregnancy in Nigeria: influence of provider factors
Zeitschrift:
Autoren:

Chima A Onoka, Obinna E Onwujekwe, Kara Hanson, Benjamin S Uzochukwu
Wichtige Hinweise
Competing interests
The authors declare that they have no competing interests.
Authors' contributions
CO conceived the study. CO, KH and OO designed the study. CO, OO and BU were involved in data collection and analysis. CO wrote the initial draft of the manuscript and all the authors participated in its finalization.
Abstract
Background
The level of access to intermittent preventive treatment for malaria in pregnancy (IPTp) in Nigeria is still low despite relatively high antenatal care coverage in the study area. This paper presents information on provider factors that affect the delivery of IPTp in Nigeria.
Methods
Data were collected from heads of maternal health units of 28 public and six private health facilities offering antenatal care (ANC) services in two districts in Enugu State, south-east Nigeria. Provider knowledge of guidelines for IPTp was assessed with regard to four components: the drug used for IPTp, time of first dose administration, of second dose administration, and the strategy for sulphadoxine-pyrimethamine (SP) administration (directly observed treatment, DOT). Provider practices regarding IPTp and facility-related factors that may explain observations such as availability of SP and water were also examined.
Results
Only five (14.7%) of all 34 providers had correct knowledge of all four recommendations for provision of IPTp. None of them was a private provider. DOT strategy was practiced in only one and six private and public providers respectively. Overall, 22 providers supplied women with SP in the facility and women were allowed to take it at home. The most common reason for doing so amongst public providers was that women were required to come for antenatal care on empty stomachs to enhance the validity of manual fundal height estimation. Two private providers did not think it was necessary to use the DOT strategy because they assumed that women would take their drugs at home. Availability of SP and water in the facility, and concerns about side effects were not considered impediments to delivery of IPTp.
Conclusion
There was low level of knowledge of the guidelines for implementation of IPTp by all providers, especially those in the private sector. This had negative effects such as non-practice of DOT strategy by most of the providers, which can lead to low levels of adherence to IPTp and ineffectiveness of IPTp. Capacity development and regular supportive supervisory visits by programme managers could help improve the provision of IPTp.