01.12.2017 | Research article | Ausgabe 1/2017 Open Access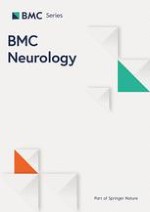 Subjective and objective assessment of physical activity in multiple sclerosis and their relation to health-related quality of life
Zeitschrift:
Autoren:

Theresa Krüger, Janina R. Behrens, Anuschka Grobelny, Karen Otte, Sebastian Mansow-Model, Bastian Kayser, Judith Bellmann-Strobl, Alexander U. Brandt, Friedemann Paul, Tanja Schmitz-Hübsch
Wichtige Hinweise
Electronic supplementary material
The online version of this article (doi:
10.​1186/​s12883-016-0783-0
) contains supplementary material, which is available to authorized users.
Abbreviations
EDSS
Expanded Disability Status Scale
HAQUAMS
Hamburg Quality of Life Questionnaire in Multiple Sclerosis
hrQoL
Health-related quality of life
IPAQ
International Physical Activity Questionnaire
MPA
Moderate physical activity
MVPA
Moderate-to-vigorous physical activity
VPA
Vigorous physical activity
VVPA
Very vigorous physical activity
Background
Methods
Results
Discussion
With respect to IPAQ walking, it has to be considered, however, that IPAQ data refer only to reported bouts of over 10 min, although most locomotor activity, i.e. steps accumulated during the day, is likely to occur in shorter bouts. When relating results from subjective to objective assessment, we therefore subsumed reported walking activity within moderate PA.
This part of analysis further suggested that step count rather differentiates high from moderate PA levels, which may apply early in disease, while mean METs (related tightly to MVPA) is more suited to distinguish between moderate and low PA level. This further implies that increase in PA is mediated by different types of activity according to PA levels and that different PA parameters may be suited to monitor MS populations of different symptom severity.
Conclusion
Both methods of assessment seem applicable in PwMS and able to describe reductions in daily PA at group level. Whether they can be used to track individual effects of interventions to enhance PA levels needs further exploration. The relation of PA measures with hrQoL seen with lower limb mobility suggests lower limb function not only as a major target for intervention to increase PA but also as a possible surrogate for PA changes.
Acknowledgments
Our technicians Susan Pikol, Cynthia Kraut and Gritt Stoffels, gave invaluable support.
Funding
This work was supported by Novartis GmbH (Roonstraße 25, 90429 Nürnberg, Germany).
There was no involvement in study design, collection, analysis, and interpretation of the data, writing of the report, and the decision to submit the article for publication.
Availability of data and materials
The dataset analyzed during the current study is available from the corresponding author on request.
Authors' contributions
TK was involved in study design and data analysis, collected clinical data of sample and wrote the manuscript. JRB was involved in study design, supervised clinical data acquisition and revised the manuscript. AG was involved in study design and revised the manuscript. KO, SMM and BK were involved in study design and contributed to data analysis and review of the manuscript. JBS supervised clinical data acquisition and revised the manuscript. AUB contributed to study design, data analysis and revised the manuscript. FP contributed to study design and revised the manuscript. TSH contributed to study design, data analysis, supervised and revised the manuscript. All authors read and approved the final manuscript for submission.
Competing interests
The authors declare that they have no competing interests.
Consent for publication
Not applicable.
Ethics approval and consent to participate
The study was approved by the local ethics committee of the Charité - Universitätsmedizin Berlin (EA1/321/14) and conducted in conformity with the Declaration of Helsinki in its currently applicable form. All participants gave written informed consent.
Open Access
This article is distributed under the terms of the Creative Commons Attribution 4.0 International License (
http://​creativecommons.​org/​licenses/​by/​4.​0/​
), which permits unrestricted use, distribution, and reproduction in any medium, provided you give appropriate credit to the original author(s) and the source, provide a link to the Creative Commons license, and indicate if changes were made. The Creative Commons Public Domain Dedication waiver (
http://​creativecommons.​org/​publicdomain/​zero/​1.​0/​
) applies to the data made available in this article, unless otherwise stated.