07.02.2020 | Original Communication | Ausgabe 5/2020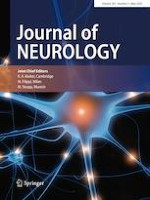 Subjects at risk of Parkinson's disease in health checkup examinees: cross-sectional analysis of baseline data of the NaT-PROBE study
Zeitschrift:
Autoren:

Makoto Hattori, Takashi Tsuboi, Katsunori Yokoi, Yasuhiro Tanaka, Maki Sato, Keisuke Suzuki, Yutaka Arahata, Akihiro Hori, Motoshi Kawashima, Akihiro Hirakawa, Yukihiko Washimi, Hirohisa Watanabe, Masahisa Katsuno
Wichtige Hinweise
Electronic supplementary material
Abstract
Introduction
The present study aimed to survey the prevalence of prodromal symptoms of Parkinson's disease (PD) in Japanese health checkup examinees, for identifying at-risk subjects.
Methods
We conducted a questionnaire survey of annual health checkup examinees without neurological symptoms using the following self-reported questionnaires: Japanese version of the Scale for Outcomes in Parkinson's disease for Autonomic Symptoms (SCOPA-AUT); Self-administered Odor Question (SAOQ); REM Sleep Behavior Disorder Screening Scale (RBDSQ); Beck Depression Inventory-Second Edition (BDI-II); Epworth Sleepiness Scale (ESS); and Physical Activity Scale for the Elderly (PASE). The presence of prodromal symptoms was determined using the 90th percentile threshold of each questionnaire. Subjects ≥ 50 years of age with ≥ 2 core prodromal symptoms (dysautonomia, hyposmia, and RBD), were classified as at risk.
Results
Between March 2017 and March 2018, 4,953 participants sufficiently answered the questionnaires. Among 2,726 subjects ≥ 50 years of age, 155 were classified as at risk. These subjects had worse values of BDI-II (12.0 ± 8.3 vs. 4.4 ± 3.8,
p
 < 0.001) and ESS (9.6 ± 5.0 vs. 6.3 ± 3.2,
p
 < 0.001), in addition to SCOPA-AUT, SAOQ, and RBDSQ. Male at-risk subjects showed lower values of hemoglobin (14.8 ± 1.3 vs. 15.0 ± 1.1,
p
 = 0.032) and low density lipoprotein cholesterol (114.5 ± 30.3 vs. 123.0 ± 28.9,
p
 = 0.004) than the examinees reporting no prodromal symptoms.
Conclusion
Approximately 6% of the population aged 50 years or older was at risk for PD. Male at-risk subjects had mild hematological and metabolic changes relevant to PD.