28.11.2018 | Interventional Neuroradiology | Ausgabe 1/2019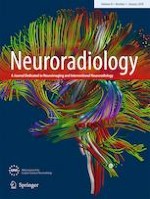 Submaximal primary angioplasty for symptomatic intracranial atherosclerosis: peri-procedural complications and long-term outcomes
Zeitschrift:
Autoren:

Guangge Peng, Jingyu Zhang, Baixue Jia, Ziqi Xu, Dapeng Mo, Ning Ma, Feng Gao, Zhongrong Miao
Wichtige Hinweise
GP and JZ contributed equally to this work.
Abstract
Purpose
The aim of our study is to report the peri-procedural complications and long-term stroke recurrent rate of symptomatic intracranial atherosclerosis (ICAS) patients who underwent submaximal primary angioplasty.
Methods
This is a retrospective analysis of consecutive patients in a single center who underwent submaximal primary angioplasty between January 1, 2012 and December 31, 2015. The peri-procedural complications and long-term outcomes are reported.
Results
Primary angioplasty was successfully performed in 129 patients (97.0%). The mean degree of pre-procedural stenosis was 81.9 ± 10.2%, and the degree of residual stenosis was 40.7 ± 19.1%. There were nine (6.8%) peri-procedural complications within 30 days, including seven ischemic strokes, one subarachnoid hemorrhage, and one asymptomatic intracerebral hemorrhage. None of them resulted in death. One-year follow-up was available in 122 patients (91.7%). Three more ischemic strokes (2.3%) which were in the territory of the treated artery occurred between 30 days and 1 year. The 1-year stroke and death rate was 9.0%, including peri-procedural stroke. Kaplan-Meier analysis showed a 3-year stroke-free survival of 87.2%.
Conclusion
Submaximal primary angioplasty can be performed with a low peri-procedural complication rate and relatively good clinical outcome at long-term follow-up for symptomatic ICAS patients.