28.01.2020 | Original Article | Ausgabe 11/2020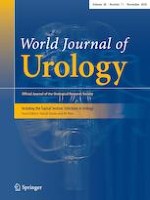 Substantial radiation dose reduction with consistent image quality using a novel low-dose stone composition protocol
Zeitschrift:
Autoren:

Georg Apfaltrer, Anja Dutschke, Pascal A. T. Baltzer, Christian Schestak, Mehmet Özsoy, Christian Seitz, Julian Veser, Elisabeth Petter, Thomas H. Helbich, Helmut Ringl, Paul Apfaltrer
Wichtige Hinweise
Publisher's Note
Springer Nature remains neutral with regard to jurisdictional claims in published maps and institutional affiliations.
Abstract
Purpose
To assess a novel low-dose CT-protocol, combining a 150 kV spectral filtration unenhanced protocol (Sn150 kVp) and a stone-targeted dual-energy CT (DECT) in patients with urolithiasis.
Methods
232 (151 male, 49 ± 16.4 years) patients with urolithiasis received a low-dose non-contrast enhanced CT (NCCT) for suspected urinary stones either on a third-generation dual-source CT system (DSCT) using Sn150 kVp (
n
 = 116, group 1), or on a second-generation DSCT (
n
 = 116 group 2) using single energy (SE) 120 kVp. For group 1, a subsequent dual-energy CT (DECT) with a short stone-targeted scan range was performed. Objective and subjective image qualities were assessed. Radiation metrics were compared.
Results
534 stones (group 1:
n
 = 242 stones; group 2:
n
 = 292 stones) were found. In group 1, all 215 stones within the stone-targeted DECT-scan range were identified. DE analysis was able to distinguish between UA and non-UA calculi in all collected stones. 11 calculi (5.12%) were labeled as uric acid (UA) while 204 (94.88%) were labeled as non-UA calculi. There was no significant difference in overall Signal-to-noise-ratio between group 1 and group 2 (
p
 = 0.819). On subjective analysis both protocols achieved a median Likert rating of 2 (
p
 = 0.171). Mean effective dose was significantly lower for combined Sn150 kVp and stone-targeted DECT (3.34 ± 1.84 mSv) compared to single energy 120 kVp NCCT (4.45 ± 2.89 mSv) (
p
 < 0.001), equaling a 24.9% dose reduction.
Conclusion
The evaluated novel low-dose stone composition protocol allows substantial radiation dose reduction with consistent high diagnostic image quality.