01.12.2016 | Primary research | Ausgabe 1/2016 Open Access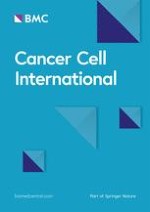 Success of tumorsphere isolation from WHO grade IV gliomas does not correlate with the weight of fresh tumor specimens: an immunohistochemical characterization of tumorsphere differentiation
Zeitschrift:
Autoren:

Kyoung Su Sung, Jin-Kyoung Shim, Ji-Hyun Lee, Se Hoon Kim, Sohee Park, Tae-Hoon Roh, Ju Hyung Moon, Eui-Hyun Kim, Sun Ho Kim, Su Jae Lee, Yong Min Huh, Seok-Gu Kang, Jong Hee Chang
Abbreviations
WHO
World Health Organization
MGMT
O-6-methylguanine-DNA methyltransferase
PCR
polymerase chain reaction
FISH
fluorescence in situ hybridization
ROC
receiver-operating characteristic
Background
A subpopulation of glioblastoma (GBM) tumor cells possesses the ability to undergo neural differentiation and induce tumorigenesis [
1
–
3
]. When cultured under appropriate conditions in vitro, this population of tumor cells gives rise to gliomaspheres, referred to more generically as tumorspheres (TSs). TSs have been isolated from various malignant tumors, including breast [
4
], prostate [
5
], bone [
6
], colon [
7
], kidney [
8
] and lung [
9
], as well as brain [
3
,
10
–
14
]. It was previously reported that the rate of isolation of TSs increase as the World Health Organization (WHO) grades of glioma rise [
3
]. Moreover, it is not possible to isolate TSs from GBM specimens in all cases, with reported isolation rates estimated at 43.8 % [
3
]. Notably, the ability to isolate TSs is a significant prognostic factor for overall survival in patients with primary GBM [
15
].
It is known that the weight of fresh specimens varies from one surgical procedure to the next. This raises the question of whether the weight of a specimen is a determining factor in the ability to isolate TSs from it. In some isolation protocols, it is suggested that a specimen weight of 200–500 mg is needed for isolation of TSs [
11
]. However, there is no established experimental relationship between the weight of fresh specimens and the isolation of TSs.
In this study, we assessed the predictive value of fresh specimen weight in determining the ability to isolate TSs, testing the hypothesis that the greater the weight of the specimen, the more effective the isolation of TSs. Thirty-five fresh specimens of WHO grade IV gliomas were divided into two groups, based on the ability to isolate TSs from them, and the relationship between specimen weight and TSs isolation was studied. We also evaluated the optimal cut-off weight of specimens for the isolation of TSs.
Methods
Patient population
Patients with WHO grade IV glioma treated at our institution between October 2014 and August 2015 were included in this study (Table
1
). All patients were histologically diagnosed according to the 2007 WHO classification, and were graded by neuropathologists; the molecular properties of each surgical specimen have been reported [
16
]. O-6-methylguanine-DNA methyltransferase (MGMT) promotor methylation and isocitrate dehydrogenase (IDH)-1 mutation status were assessed by polymerase chain reaction (PCR) and immunohistochemistry (IHC). In cases where IHC results for IDH1 were negative, we tested for IDH1 mutations using the hot-spot technique. Epidermal growth factor receptor (EGFR) and loss of heterozygosity (LOH) at chromosomes 1p and 19q were evaluated by fluorescence in situ hybridization (FISH). P53 was identified by IHC.
Table 1
Demographic and clinical characteristics of patients with WHO grade IV glioma
Characteristics

TS culture positive (n = 18)

TS culture negative (n = 17)

P value*

Age (years)

62.6 ± 10.7

55.5 ± 12.9

0.088

Sex (M:F)

10:8

10:7

0.845

Pathological diagnosis

>0.999

GBM

14 (77.8 %)

15 (88.2 %)

GBMO

2 (11.1 %)

1 (5.9 %)

Gliosarcoma

2 (11.1 %)

1 (5.9 %)

Type

>0.999

Primary

16 (88.9 %)

15 (88.2 %)

Recurrent

2 (11.1 %)

2 (11.8 %)

Molecular markers

IDH1

Wild type

18 (100 %)

17 (100 %)

Mutation

0

0

1p19q

>0.999

No deletion

16 (88.9 %)

15 (88.2 %)

Codeletion

2 (11.1 %)

2 (11.8 %)

MGMT promotor

0.358

Unmethylated

10 (55.6 %)

12 (70.6 %)

Methylated

8 (44.4 %)

5 (29.4 %)

P53 mutation

0.443

Wild type

3 (16.7 %)

5 (29.4 %)

Positive by IHC

15 (84.3 %)

12 (70.6 %)

EGFR mutation

0.193

Wild type

8 (44.4 %)

4 (23.5 %)

Positive by FISH

10 (55.6 %)

13 (76.5 %)
From fresh specimen to single cell isolation
Fresh tumor specimens were obtained in the operating room from glioma patients undergoing surgery. Each specimen was place in a sterile centrifuge tube (SPL Life Sciences Co., Ltd, Korea) on ice, and was weighed on the same electronic precision balance (Sartorius
®
TE4101-L, Sartorius Weighing Technology GmbH, Goettingen, Germany) within 1 h. Thereafter, specimens were processed using a previously reported mechanical dissociation method [
1
,
3
,
17
]. Briefly, surgical specimens were minced and dissociated with a scalpel in Dulbecco's modified Eagle medium/nutrient mixture F-12 (DMEM/F-12; Mediatech, Manassas, VA, USA) and then passed through a series of 100-μm nylon mesh cell strainers (BD Falcon, Franklin Lakes, NJ, USA). Cell suspensions were washed twice in DMEM/F-12 and cultured in complete media (DMEM/F-12) containing 1xB27 supplements (Invitrogen, San Diego, CA, USA), 20 ng/ml of basic fibroblast growth factor (bFGF; Sigma, St. Louis, MO, USA), 20 ng/ml of epidermal growth factor (EGF; Sigma), and 50 U/ml penicillin/50 mg/ml streptomycin [
1
,
3
,
17
].
Isolation of TSs
Isolated single cells were cultured as gliomaspheres in complete TS medium consisting of DMEM/F-12 containing 2 % 1× B27, 20 ng/ml of 0.02 % bFGF, 20 ng/ml of 0.02 % EGF, and 1 % antibiotic–antimycotic solution (100× ; Gibco, Invitrogen Korea, Seoul, Korea). The cells were cultured continuously through three to six passages, consistent with their status as progenitor/stem cells. Cell morphology was assessed by observing cultures with an inverted phase-contrast microscope (I × 71 Inverted Microscope; Olympus, Tokyo, Japan). The neural differentiation potential of gliomaspheres was subsequently tested, followed by an evaluation of their ability to induce tumorigenesis in vivo. The relationship between the isolation of TSs and the weight of surgical specimens was investigated, and the optimal cut-off weight for isolation of TSs was evaluated.
Immunocytochemical staining
For investigation of surface and intracellular antigen expression profiles, TSs were transferred to cover slides, fixed with 2 % paraformaldehyde for 7 min, and then treated with a 3:1 ratio of methanol and acetic acid for 3 min. The cells were then washed and permeabilized by incubating with 0.1 % Triton X-100 for 10 min. After blocking with 1 % bovine serum albumin (BSA; Amresco, Solon, OH, USA) for 1 h, cells were incubated with primary antibodies for 2 h at room temperature. The following antibodies were used: rabbit anti-CD133 (1:250, ab19898; Abcam [Dawinbio Inc], Hanam, Korea), rabbit anti-nestin (1:250, ab5968; Abcam). Primary antibodies against CD133 and nestin were detected with goat anti-rabbit IgG conjugated with Alexa Fluor 555 (1:2000; Invitrogen), which is spectrally similar to Cy3. The cells were mounted with Vectashield H-1200 mounting media containing 4′6-diamidino-2-phenylindole (DAPI; Vector Laboratories, Burlingame, CA, USA) to counterstain nuclei. Phosphate-buffered saline (PBS; Dawinbio Inc, Hanam, Korea) was used for all washing steps, and antibody diluent reagent solution (Invitrogen) was used to dilute antibodies. As a negative control, only the secondary antibody was used. A fluorescence microscope (1 × 71; Olympus Korea, Seoul, Korea) and DP Controller software (Olympus Korea) were used for observing and photographing the cells.
Immunohistochemical staining
Sections (3-mm thick) were deparaffinized in xylene and rehydrated through a graded alcohol series to distilled water. Antigen retrieval was performed by microwave irradiation, after which samples were incubated with the following primary antibodies: rabbit polyclonal anti-CD133 (1:200, ab19898; Abcam [Dawinbio Inc], Hanam, Korea), mouse monoclonal anti-nestin (10C2; CELL MARQUE, Rocklin, CA95677, USA), and mouse monoclonal anti-CD15 (1:50, M3631; Dako Korea LCC, Seoul). Specific binding was detected using biotinylated anti-mouse IgG, followed by peroxidase/alkaline phosphatase streptavidin, with 3,3′-diaminobenzidine and the combination of nitro blue tetrazolium chloride (NBT) and 5-bromo-4-chloro-3-indolyl phosphate (BCIP) as substrates.
Neuro-glial differentiation
The multipotency of TSs was tested by examining neural lineage expression by immunocytochemical staining. Briefly, after being seeded onto chamber slides (Lab-Tek II; Nalge Nunc International, Rochester, NY, USA), cells were grown in neural differentiation media containing 10 % fetal bovine serum (FBS; Lonza) and 1 × B27 supplement (Invitrogen) for up to 14 days. Cells were then fixed with 2 % paraformaldehyde for 7 min at 4 °C, and permeabilized by incubating with 0.1 % Triton X-100 for 10 min. After blocking with 1 % BSA (Amresco) for 1 h, cells were immunostained with the following antibodies: rabbit anti-GFAP (1:200 dilution; Dako, Carpinteria, CA, USA), mouse anti-MBP (myelin basic protein, 1:200 dilution; Chemicon, Temecula, CA, USA), mouse anti-NeuN (1:100 dilution; Chemicon), and mouse anti-TUBB3 (Tuj1, 1:200 dilution; Chemicon). The primary antibodies were detected with Cy3-conjugated anti-mouse or anti-rabbit secondary antibodies (1:200 dilution; Jackson ImmunoResearch Laboratories, West Grove, PA, USA), as appropriate. Nuclei were counterstained with DAPI (Vector Laboratories). Slides were examined and photographed using a fluorescence microscope.
Statistical analysis
The patients' demographic characteristics and weight of each surgical specimens were compared using the independent two-sample
t
test for continuous variables and Chi square test (Fisher's exact test) for categorical variables. Youden's method in conjunction with receiver-operating characteristic (ROC) analysis was used to determine the optimal cut-off weight of fresh specimens for isolation of TSs to maximize sensitivity and specificity. All statistical analysis were performed using SAS version 9.2 software (SAS Institute Inc. Cary, NS, USA), MedCalc version 15.0 software (MedCalc Software, Ostend, Belgium) and SPSS version 18.0 KO software (SPSS Korea, Seoul, Korea), with P < 0.05 considered statistically significant.
Results
Discussion
Conclusion
Our initial hypothesis that a larger amount of specimen would translate to a higher rate of TS isolation proved to be incorrect. Instead, we found no relationship between the weight of specimen and TS isolation rate. Moreover, our data suggested that 500 mg of fresh specimen was optimal for isolation of TS with maximal sensitivity and specificity. The results of this study could provide useful technical information for cellular immortalization of patients with WHO grade IV gliomas.
Authors' contributions
SGK supervised the development of the work, gave precious advices, and finally approved the article. JKS, JHL, SJL and YMH performed the experiment, data analysis. KSS performed data analysis, interpretation of the results, manuscript writing, and revision of manuscript. SHP approved the statistical results. SHK approved the pathological data. THR, JHM, EHK, SHK, and JHC performed acquisition of data. All authors read and approved the final manuscript.
Acknowledgements
We sincerely thank Prof Junseong Park for for providing genomic informations.
Competing interests
The authors declare that they have no competing interests.
Ethics approval and consent to participate
All patients provided written informed consent, and permission for specimen sampling and evaluation was obtained from the Institutional Review Boards of our institution, as specified in the Declaration of Helsinki.
Funding
This study was supported by the Korean Health Technology R&D Project, Ministry of Health & Welfare, Republic of Korea (HI13C1509, HI14C0042 and HI14C1324).
Open Access
This article is distributed under the terms of the Creative Commons Attribution 4.0 International License (
http://​creativecommons.​org/​licenses/​by/​4.​0/​
), which permits unrestricted use, distribution, and reproduction in any medium, provided you give appropriate credit to the original author(s) and the source, provide a link to the Creative Commons license, and indicate if changes were made. The Creative Commons Public Domain Dedication waiver (
http://​creativecommons.​org/​publicdomain/​zero/​1.​0/​
) applies to the data made available in this article, unless otherwise stated.