01.12.2017 | Case report | Ausgabe 1/2017 Open Access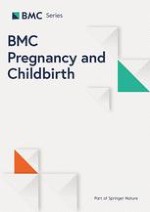 Successful anticoagulant therapy for disseminated intravascular coagulation during conservative management of placenta percreta: a case report and literature review
Zeitschrift:
Autoren:

Shinya Matsuzaki, Kiyoshi Yoshino, Masayuki Endo, Takuji Tomimatsu, Tsuyoshi Takiuchi, Kazuya Mimura, Keiichi Kumasawa, Yutaka Ueda, Tadashi Kimura
Abstract
Background
Placenta percreta is a rare obstetric condition associated with the risk of massive intraoperative hemorrhage. Recently, conservative management of placenta percreta has been performed to reduce maternal morbidity. However, various complications have been reported during such management. Only a few cases of asymptomatic disseminated intravascular coagulation (DIC) or fever without infection have been reported. Here, we discuss such a case and review the related literature to understand this rare condition better. For this, we performed an electronic literature review.
Case presentation
We present the clinical course, results of blood tests, and serial magnetic resonance images of a 35-year-old female (gravida 5, para 2) with placenta percreta complicated by placenta previa that was managed conservatively. The patient successfully delivered a healthy baby by a cesarean delivery via a transverse uterine fundal incision at 36 weeks of gestation. We did not observe intraoperative complications during cesarean delivery, and the postoperative course remained uncomplicated until 47 days after the delivery. However, asymptomatic DIC developed after 47 days, and her serum fibrinogen level declined to 42 mg/dL, which was successfully treated with anticoagulant therapy by a therapeutic dose of intravenous heparin for 22 days (postoperative days 48–69). Although DIC resolved, subsequent fever persisted for approximately 1 month (postoperative days 67–103). Infection was ruled out, and conservative management was successfully continued.
Literature review revealed that successful conservative management of a patient with asymptomatic DIC and subsequent fever without infection is extremely rare.
Conclusions
Some patients with DIC and fever can continue conservative management of placenta percreta, although careful examination and monitoring are needed.