01.12.2015 | Case report | Ausgabe 1/2015 Open Access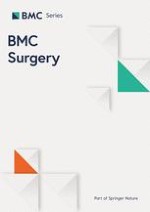 Successful correction of tibial bone deformity through multiple surgical procedures, liquid nitrogen-pretreated bone tumor autograft, three-dimensional external fixation, and internal fixation in a patient with primary osteosarcoma: a case report
Zeitschrift:
Autoren:

Akihiko Takeuchi, Norio Yamamoto, Toshiharu Shirai, Hideji Nishida, Katsuhiro Hayashi, Koji Watanabe, Shinji Miwa, Hiroyuki Tsuchiya
Wichtige Hinweise
Competing interests
No benefits in any form have been received or will be received from a commercial party related directly or indirectly to the subject of this article.
Authors' contributions
A.T. was involved in data collection, case analysis and writing the manuscript. T.S. and H.N. participated in the 1st surgery. N.Y., T.S., and K.H. participated in the 2nd surgery. T.S., H.N., and K.H. participated in the 3rd surgery. T.S. and K.W. participated in the 4th surgery. S.M. assisted in drafting the manuscript and reviewed the article. H.T. performed all surgeries and followed up the patient. All authors read and approved the final manuscript.
Abstract
Background
In a previous report, we described a method of reconstruction using tumor-bearing autograft treated by liquid nitrogen for malignant bone tumor. Here we present the first case of bone deformity correction following a tumor-bearing frozen autograft via three-dimensional computerized reconstruction after multiple surgeries.
Case presentation
A 16-year-old female student presented with pain in the left lower leg and was diagnosed with a low-grade central tibial osteosarcoma. Surgical bone reconstruction was performed using a tumor-bearing frozen autograft. Bone union was achieved at 7 months after the first surgical procedure. However, local tumor recurrence and lung metastases occurred 2 years later, at which time a second surgical procedure was performed. Five years later, the patient developed a 19° varus deformity and underwent a third surgical procedure, during which an osteotomy was performed using the Taylor Spatial Frame three-dimensional external fixation technique. A fourth corrective surgical procedure was performed in which internal fixation was achieved with a locking plate. Two years later, and 10 years after the initial diagnosis of tibial osteosarcoma, the bone deformity was completely corrected, and the patient's limb function was good.
Conclusion
We present the first report in which a bone deformity due to a primary osteosarcoma was corrected using a tumor-bearing frozen autograft, followed by multiple corrective surgical procedures that included osteotomy, three-dimensional external fixation, and internal fixation.