01.12.2017 | Case report | Ausgabe 1/2017 Open Access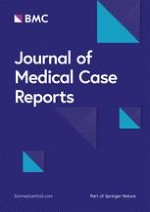 Successful management of retinal metastasis from renal cancer with everolimus in a monophthalmic patient: a case report
Zeitschrift:
Autoren:

Ismail Essadi, Issam Lalya, Mohamed Kriet, Abdelhamid El Omrani, Rhizlane Belbaraka, Mouna Khouchani
Background
The occurrence of retinal metastasis is a rare presenting manifestation of solid tumors [
1
]. Metastatic tumors are the most common intraocular malignancy in adults [
1
]. They are most commonly found in the choroid and less frequently in the iris and ciliary body [
2
]. Owing to its high vascularity, the posterior choroid is particularly exposed to blood-borne cancer cells [
3
]. Although symptomatic choroidal metastasis is less common than asymptomatic choroidal metastasis, visual disturbance caused by cancer metastasis from other organs is one of the most important limits on the quality of life of patients with cancer [
4
].
Therefore, further improvement of the therapy for visual disturbance is needed. Clinically available therapies for choroidal metastasis are currently very limited [
5
]. Chemotherapy causes systemic adverse effects and is not always effective. Radiotherapy provides local therapy but has several complications, including cataract, exposure keratopathy, iris neovascularization, radiation retinopathy, and radiation papillopathy [
5
,
6
]. We report a case of a patient successfully managed with everolimus as second-line treatment of retinal metastasis from renal cancer.
Case presentation
A 62-year-old Moroccan man presented to our hospital with a history of monophthalmitis secondary to a war injury sustained 30 years earlier. He had been followed for 28 months for metastatic clear cell renal carcinoma (Fig.
1
). The secondary sites were represented by bilateral pulmonary nodules (Fig.
2
). The first-line treatment with sunitinib 50 mg per day (4 weeks on, 2 weeks off) was effective for 24 months and well tolerated. Clinical evaluation demonstrated a large visual field. An ophthalmological assessment with angiography showed the presence of a retinal tissue process (Fig.
3
). A cerebral scan confirmed the presence of a retinal metastatic lesion without any cerebral localization (Fig.
4
). The rest of the extension report was in favor of an increase in the number and size of pulmonary lesions.
×
×
×
×
A second-line treatment based on everolimus 10 mg daily was started. Evaluation after 4 months revealed marked improvement of symptoms and complete recovery of visual function, despite the persistence of imaging-detected retinal metastasis that was significantly decreased in size (Fig.
5
). The use of everolimus was associated with the occurrence of grade 2 mucositis, which rapidly resolved after symptomatic treatment.
×
Discussion
Conclusions
We present a case of a patient followed for metastatic clear cell renal cancer who had a large retinal mass on one eye that appeared while under treatment. This metastatic event is very rare. This case highlights the possibility of successful management of retinal metastasis by medical means. Thus, only a greater awareness of the problem will lead to choosing the best therapeutic approach to individual patients.
Acknowledgements
We sincerely thank Souad Tadlaoui for her assistance.
Availability of data and materials
Not applicable to this report, because no datasets were generated or analyzed during the present study.
Ethics approval and consent to participate
Not applicable.
Consent for publication
Written informed consent was obtained from the patient for publication of this case report and any accompanying images. A copy of the written consent is available for review by the Editor-in-Chief of this journal.
Competing interests
The authors declare that they have no competing interests.
Publisher's Note
Springer Nature remains neutral with regard to jurisdictional claims in published maps and institutional affiliations.
Open Access
This article is distributed under the terms of the Creative Commons Attribution 4.0 International License (
http://​creativecommons.​org/​licenses/​by/​4.​0/​
), which permits unrestricted use, distribution, and reproduction in any medium, provided you give appropriate credit to the original author(s) and the source, provide a link to the Creative Commons license, and indicate if changes were made. The Creative Commons Public Domain Dedication waiver (
http://​creativecommons.​org/​publicdomain/​zero/​1.​0/​
) applies to the data made available in this article, unless otherwise stated.