19.02.2018 | Original Article | Ausgabe 4/2018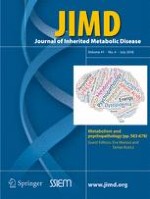 Succinic semialdehyde dehydrogenase deficiency, a disorder of GABA metabolism: an update on pharmacological and enzyme-replacement therapeutic strategies
Zeitschrift:
Autoren:

Kara R. Vogel, Garrett R. Ainslie, Dana C. Walters, Alice McConnell, Sameer C. Dhamne, Alexander Rotenberg, Jean-Baptiste Roullet, K. Michael Gibson
Wichtige Hinweise
Communicated by: Jaak Jaeken
Electronic supplementary material
Abstract
We present an update to the status of research on succinic semialdehyde dehydrogenase (SSADH) deficiency (SSADHD), a rare disorder of GABA metabolism. This is an unusual disorder featuring the accumulation of both GABA and its neuromodulatory analog, gamma-hydroxybutyric acid (GHB), and recent studies have advanced the potential clinical application of NCS-382, a putative GHB receptor antagonist. Animal studies have provided proof-of-concept that enzyme replacement therapy could represent a long-term therapeutic option. The characterization of neuronal stem cells (NSCs) derived from
aldehyde dehydrogenase 5a1
−/−
(
aldh5a1
−/−
) mice, the murine model of SSADHD, has highlighted NSC utility as an in vitro system in which to study therapeutics and associated toxicological properties. Gene expression analyses have revealed that transcripts encoding GABA
A
receptors are down-regulated and may remain largely immature in
aldh5a1
−/−
brain, characterized by excitatory as opposed to inhibitory outputs, the latter being the expected action in the mature central nervous system. This indicates that agents altering chloride channel activity may be therapeutically relevant in SSADHD. The most recent therapeutic prospects include mTOR (mechanistic target of rapamycin) inhibitors, drugs that have received attention with the elucidation of the effects of elevated GABA on autophagy. The outlook for novel therapeutic trials in SSADHD continues to improve.