01.09.2009 | Original Article | Ausgabe 4-5/2009 Open Access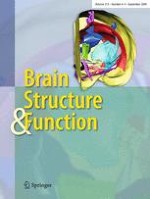 Superior olivary complex organization and cytoarchitecture may be correlated with function and catarrhine primate phylogeny
Zeitschrift:
Autoren:

Heidegard Hilbig, Boris Beil, Henrik Hilbig, Josep Call, Hans-Jürgen Bidmon
Abstract
In the mammalian auditory system, the medial nucleus of the trapezoid body and the lateral superior olive (MNTB-LSO system) contribute to binaural intensity processing and lateralization. Localization precision varies with the sound frequencies. As recency of common ancestry with human beings increases, primates have improved low-frequency sensitivity and reduced sensitivity to higher frequencies. The medial part of the MNTB is devoted to higher frequency processing. Thus, its high-frequency-dependent function is nearly lost in humans and its role in binaural processing as part of the contralateral pathway to the LSO remains questionable. Here, Nissl-stained sections of the superior olivary complex of man (
Homo sapiens),
bonobo (
Pan paniscus
), chimpanzee (
Pan troglodytes
), gorilla (
Gorilla gorilla
), orangutan (
Pongo pygmaeus
), gibbon (
Hylobates lar
), and macaque (
Macaca fascicularis
) were compared to reveal differences and coincidences. From chimpanzees to humans, the size of the LSO decreased, and the MNTB as a compact nucleus nearly disappears. From chimpanzees to humans, the LSO/MNTB ratio increases dramatically too, whereas the LSO/MSO ratio remains 1.1; a finding that probably corresponds to the phylogenetic proximity between the species.