01.12.2020 | Research article | Ausgabe 1/2020 Open Access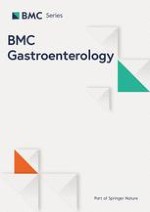 Superiority of mucosal incision-assisted biopsy over ultrasound-guided fine needle aspiration biopsy in diagnosing small gastric subepithelial lesions: a propensity score matching analysis
Zeitschrift:
Autoren:

Yosuke Minoda, Takatoshi Chinen, Takashi Osoegawa, Soichi Itaba, Kazuhiro Haraguchi, Hirotada Akiho, Akira Aso, Yorinobu Sumida, Keishi Komori, Haruei Ogino, Eikichi Ihara, Yoshihiro Ogawa
Wichtige Hinweise
Supplementary information
Publisher's Note
Springer Nature remains neutral with regard to jurisdictional claims in published maps and institutional affiliations.
Abbreviations
EGD
Esophagogastroduodenoscopy
EMR
Endoscopic mucosal resection
ESD
Endoscopic submucosal dissection
EUS-FNAB
Endoscopic ultrasound-guided fine needle aspiration/ biopsy
GIST
Gastrointestinal stromal tumor
MIAB
Mucosal incision-assisted biopsy
SINK
Single-incision needle-knife biopsy
Background
Gastrointestinal stromal tumors (GISTs) and leiomyomas are the most common types of gastric subepithelial lesions (SELs) [
1
–
3
]. Many guidelines recommend histological evaluation of gastric SELs that have characteristics suggestive of GISTs [
4
–
6
]. Although endoscopic ultrasound-guided fine-needle aspiration biopsy (EUS-FNAB) has been the gold standard for such evaluation, obtaining large enough samples for histological analyses by using this technique is sometimes difficult, even with the recently-developed FNB needles and forward-viewing endoscopes.
Alternatively, "open biopsy" of SELs can be performed by partially removing the covering mucosa and exposing the lesion. Since the development of endoscopic submucosal dissection (ESD) for gastrointestinal neoplasms, ESD knives have increasingly been used to perform open biopsies of SELs [
7
–
9
]. We have named this biopsy technique, which was originally reported by Lee et al., [
9
] but which did not have a specific name, mucosal incision-assisted biopsy (MIAB) [
10
]. Our previous study suggested that MIAB is useful for SELs with intraluminal, but not extraluminal, growth patterns [
11
]. Our more recent study [
11
] suggested that MIAB and EUS-FNAB are of comparable usefulness for diagnosing SELs; however, the number of patients enrolled in that study (23 patients in MIAB group) was too small to enable evaluation of the efficacy of MIAB for SELs of differing sizes. Thus, in the current study, we collected medical records of a larger number of patients with SELs with intraluminal growth patterns and compared the usefulness, diagnostic yield, procedural time, and associated adverse events of MIAB and EUS-FNAB.
Methods
Patients
This was a retrospective comparative analysis of MIAB and EUS-FNAB using data for patients with gastric SELs with intraluminal growth patterns who underwent either MIAB or EUS-FNAB at five hospitals in Japan (Kyushu University Hospital, Kyushu Medical Center, Harasanshin Hospital, Kyushu Rosai Hospital, and Kitakyushu Municipal Medical Center) between January 2010 and January 2018. No patients who met the above criteria were excluded from the study. The decision to use MIAB or EUS-FNAB was left to the primary physician for each patient.
The intraluminal growth pattern of the SELs was confirmed by preoperative gastroscopy and EUS, and SEL size was measured on EUS images. All patients who underwent biopsy (either MIAB or EUS-FNAB) were suspected before biopsy of having tumors of mesenchymal origin, such as GISTs, leiomyomas, schwannomas, and glomus tumor, on the basis of EUS findings.
MIAB and EUS-FNAB procedures
For MIAB, to lift the mucosa covering the SEL and to create a safer incision, normal saline or glycerol supplemented with diluted epinephrine was injected into the submucosal layer above the lesion. The target mucosal and submucosal tissues were incised with an endoscopic submucosal dissection knife (Needle knife, Olympus, Tokyo, Japan; Flush knife, Fuji Film, Tokyo, Japan) using electrosurgical current generated by a high-frequency power supply (ICC or VIO300D; ERBE, Tubingen, Germany). After exposing the lesion, tissue samples were obtained by biopsy forceps (Radial jaw, Boston Scientific, Natick, MA, USA). Approximately 3–7 biopsy samples were obtained from each lesion.
For EUS-FNAB, 19- to 25-gauge FNAB needles (described later) were used to obtain SEL samples through the mucosa under the guidance of oblique-view EUS imaging (GF-UCT 260; Olympus). Rapid on-site evaluation (ROSE) by cytologists or pathologists was performed for all EUS-FNAB procedures. Half of each FNAB sample was used for ROSE and the other half reserved for later histological examination. The procedures were repeated a maximum of six times until either the biopsy team considered they had obtained enough samples for histology, for example, because the cytologists/pathologists had seen numerous spindle cells, indicating that the needle had reached a GIST, or the team decided to end the procedure due to difficulties in sample collection.
All samples in both groups were later evaluated histologically by pathologists. All patients were monitored daily for symptoms and signs of hematomesis and hematochezia.
Comparison between MIAB and EUS-FNAB
Three aspects of MIAB and EUS-FNAB were compared: diagnostic yield, procedural time, and adverse event rate. The procedural time was defined as the time from start to finish of the biopsy procedures. The data were collected from the operational records of patients. Major bleeding was defined as a ≥ 2 g/dL drop in blood hemoglobin.
Comparison between EUS-FNA and EUS-FNB
The following needles were categorized as FNA and FNB needles: FNA; SonoTip, Mediglobe GmbH, Rosenheim, Germany; Expect, Boston Scientific; Ez-shot, Olympus, Tokyo, Japan; and FNB: Echo-Tip Procore, Cook Medical, Bloomington, USA; Acquire, Boston Scientific. The diagnostic yields achieved by FNA and FNB needles were compared.
Statistical analysis
All statistical analyses were performed using the JMP software program version 13.0 (SAS Institute, Cary, NC, USA). Comparisons between MIAB and EUS-FNAB were performed before and after propensity-score matching of the lesion sizes in the two groups (Fig.
1
). The chi-squared test or Fisher's exact test were used to compare the categorical data (patients' characteristics, lesion locations, and histology types). Student's
t
-test was used to compare continuous data (age, lesion size, and procedural time) before propensity-score matching. We used a multivariate logistic regression analysis to evaluate the relationship between the diagnostic yield and lesion size. After propensity-score matching, Student's paired
t
-test was used to compare continuous data in the two groups.
P
< 0.05 indicated statistical significance, for all tests.
×
To estimate propensity scores, lesion sizes (mm) were entered as independent variables into a multivariate logistic regression model. This model yielded an area under the receiver operating characteristic curve score of 0.67. Once the propensity scores were estimated, we matched patients in the two groups by setting calipers, using the stringency scores in the JMP software program, at a width equal to a distance of 0.2 from the standard deviation of the logit of the propensity score, without replacement. The effect of matching was evaluated in terms of the absolute standardized difference.
Results
Discussion
As to limitations, this study had a retrospective design. Thus, our findings require confirmation by a prospective randomized trial; however, our data provide reasonable support for open biopsy as an option for obtaining samples from gastric SELs.
Conclusions
In conclusion, although MIAB takes approximately 13 min longer to perform than EUS-FNAB, MIAB provides significantly better diagnostic yields for gastric SELs smaller than 20-mm diameter with intraluminal growth, regardless of their location. MIAB may be a good option for diagnosing small gastric SELs. In our study, the diagnostic yields with MIAB and EUS-FNAB were comparable for gastric SELs ≥20-mm diameter. Considering the shorter procedural time required, EUS-FNAB should remain the standard for diagnosing larger lesions.
Supplementary information
Acknowledgments
Not applicable.
Ethics approval and consent to participate
This study was conducted in accordance with the Declaration of Helsinki, and the study protocol was approved by the Ethics Committees of the Kyushu University Hospital (Approval No. 29–465), Kyushu Medical Center (Approval No. 17C366), Kyushu Rosai Hospital (Approval No. 17–27), Harasanshin Hospital (Approval No. 2017–31), and Kitakyushu Municipal Medical Center (Approval No. 201801056). Written informed consent for biopsy procedures was obtained from all patients. This study was approved by the ethics committees of all five hospitals.
Consent for publication
Not applicable.
Competing interests
The authors declare that they have no competing interests.
Open Access
This article is distributed under the terms of the Creative Commons Attribution 4.0 International License (
http://​creativecommons.​org/​licenses/​by/​4.​0/​
), which permits unrestricted use, distribution, and reproduction in any medium, provided you give appropriate credit to the original author(s) and the source, provide a link to the Creative Commons license, and indicate if changes were made. The Creative Commons Public Domain Dedication waiver (
http://​creativecommons.​org/​publicdomain/​zero/​1.​0/​
) applies to the data made available in this article, unless otherwise stated.
Publisher's Note
Springer Nature remains neutral with regard to jurisdictional claims in published maps and institutional affiliations.