01.12.2017 | Research | Ausgabe 1/2017 Open Access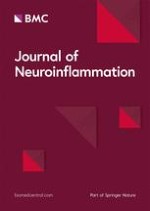 Suppression of MyD88-dependent signaling alleviates neuropathic pain induced by peripheral nerve injury in the rat
Zeitschrift:
Autoren:

Fan Liu, Zhiyao Wang, Yue Qiu, Min Wei, Chunyan Li, Yikuan Xie, Le Shen, Yuguang Huang, Chao Ma
Wichtige Hinweise
Electronic supplementary material
The online version of this article (doi:
10.​1186/​s12974-017-0822-9
) contains supplementary material, which is available to authorized users.
Abstract
Background
MyD88 is the adaptor protein of MyD88-dependent signaling pathway of TLRs and IL-1 receptor and regulates innate immune response. However, it was not clear whether and how MyD88 and related signaling pathways in the dorsal root ganglion (DRG) and spinal dorsal horn (SDH) are involved in neuropathic pain.
Methods
Chronic constriction injury (CCI) was used to induce neuropathic pain in the rat. The expression of MyD88, TRIF, IBA1, and GFAP was detected with immunofluorescent staining and Western blot. The expression of interleukin-1 beta (IL-1β), high mobility group box 1 (HMGB1), NF-κB-p65, phosphorylated NF-κB-p65, ERK, phosphorylated ERK, and tumor necrosis factor-alpha (TNF-α) was detected with Western blot. Pain-related behavioral effects of MyD88 homodimerization inhibitory peptide (MIP) were accessed up to 3 weeks after intrathecal administration.
Results
Peripheral nerve injury significantly increased the protein level of MyD88 in the DRG and SDH, but had no effect on TRIF. MyD88 was found partly distributed in the nociceptive neurons in the DRGs and the astrocytes and microglia in the SDH. HMGB1 and IL-1β were also found upregulated in nociceptive pathways of CCI rats. Intrathecal application of MIP significantly alleviated mechanical and thermal hyperalgesia in the CCI rats and also reversed CCI-induced upregulation of MyD88 in both DRG and SDH. Further investigation revealed that suppression of MyD88 protein reduced the release of TNF-α and glial activation in the SDH in the CCI rats.
Conclusions
MyD88-dependent TIR pathway in the DRG and SDH may play a role in CCI-induced neuropathic pain. MyD88 might serve as a potential therapeutic target for neuropathic pain.