09.11.2019 | Original Research Paper | Ausgabe 1/2020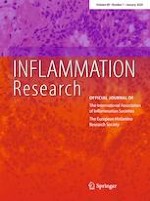 Suppressors of cytokine signalling (SOCS)-1 inhibits neuroinflammation by regulating ROS and TLR4 in BV2 cells
Zeitschrift:
Autoren:

Jinxia Hu, Weiwei Wang, Qi Hao, Tao Zhang, Hanhan Yin, Miao Wang, Cheng Zhang, Conghui Zhang, Lijie Zhang, Xiao Zhang, Wei Wang, Xichuan Cao, Jie Xiang, Xinchun Ye
Wichtige Hinweise
Jinxia Hu and Weiwei Wang contributed equally to this work.
Publisher's Note
Springer Nature remains neutral with regard to jurisdictional claims in published maps and institutional affiliations.
Abstract
Objective
The suppressors of cytokine signaling (SOCS) proteins are physiological suppressors of cytokine signaling which have been identified as a negative feedback loop to weaken cytokine signaling. However, the underlying molecular mechanisms is unknown. This study was to investigate the role of SOCS1 in the oxygen–glucose deprivation and reoxygenation (OGDR) or LPS-induced inflammation in microglia cell line BV-2 cells.
Materials and methods
BV-2 microglial cells were used to construct inflammation model. A SOCS1 over-expression plasmid was constructed, and the SOCS1-deficient cells were generated by utilizing the CRISPR/CAS9 system. BV-2 microglial cells were pretreated with over-expression plasmid or SOCS1 CRISPR plasmid before OGDR and LPS stimulation. The effect of SOCS1 on proinflammatory cytokines, toll-like receptor 4 (TLR4), and reactive oxygen species (ROS) were evaluated.
Results
We found that SOCS1 increased in OGDR or LPS-treated BV-2 microglial cells in vitro. SOCS1 over-expression significantly reduced the production of proinflammatory cytokines including tumor necrosis factor α (TNF-α), interleukin 1β (IL-1β), and IL-6, and CRISPR/CAS9-mediated SOCS1 knockout reversed this effect. Also we determined that SOCS1 over-expression reduced the level of reactive oxygen species (ROS) while the absence of SOCS1 increased the production of ROS after OGDR or LPS-stimulated inflammation. Furthermore, we found that OGDR and LPS induced the expression of toll-like receptor 4 (TLR4) in BV2 cells. Nevertheless, SOCS1 over-expression attenuated the expression of TLR4, while knockdown of SOCS1 upregulated TLR4.
Conclusions
Our study indicated that SOCS1 played a protective role under inflammatory conditions in OGDR or LPS treated BV-2 cells through regulating ROS and TLR4. These data demonstrated that SOCS1 served as a potential therapeutic target to alleviate inflammation after ischemic stroke.