24.08.2020 | Original Article–Alimentary Tract | Ausgabe 11/2020 Open Access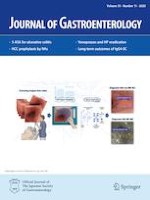 Supragastric belching in Japan: lower prevalence and relevance for management of gastroesophageal reflux disease compared to United Kingdom
Zeitschrift:
Autoren:

Akinari Sawada, Hideaki Itami, Kenichiro Nakagawa, Shinji Hirano, Hiroyuki Kitamura, Rieko Nakata, Shingo Takashima, Yasuaki Abe, Masahiro Saito, Etsuro Yazaki, Osamu Kawamura, Fumio Tanaka, Toshihisa Takeuchi, Tomoyuki Koike, Atsushi Masamune, Yasuhiro Fujiwara, Kazuhide Higuchi, Daniel Sifrim
Wichtige Hinweise
Akinari Sawada shares co-first authorship with Hideaki Itami.
Publisher's Note
Springer Nature remains neutral with regard to jurisdictional claims in published maps and institutional affiliations.
Abstract
Background
Supragastric belching (SGB) may play a role in the pathophysiology of proton pump inhibitors (PPIs)-refractoriness in gastroesophageal reflux disease (GERD). SGB may be present in up to 40% of reflux symptoms in PPI-refractory GERD. Most reports on SGB have come from Western countries, and little is known about the prevalence and relevance of SGB in Asian refractory GERD patients. This study aimed at comparing the role of SGB in GERD patients in Japan and the UK.
Methods
We re-analyzed impedance-pH monitoring tracings from patients who were referred to tertiary centers in Japan and the UK due to PPI-refractory reflux symptoms. The prevalence of excessive SGB and the impact of SGB on reflux symptoms were compared between the two countries.
Results
Impedance-pH tracings from124 Japanese and 83 British patients were re-analyzed. Japanese patients were significantly younger and had smaller body mass index than the British (
P
 < 0.001). Japanese patients had significantly lower prevalence of excessive SGB (18.5%) than the UK (36.1%) irrespective of reflux phenotype (
P
 = 0.006). Logistic regression analysis showed that the geographical/cultural difference was the only factor associated with the different prevalence of SGB (odds ratio; 2.91, 95% CI 1.09–7.73,
P
 = 0.032). SGB were related to typical reflux symptoms very rarely in Japan [0% (0–4.9)] compared to the UK [35% (0–54.1)] (
P
 = 0.071).
Conclusions
The prevalence of SGB and their impact on reflux symptoms is significantly lower in Japan compared to the UK. The difference is not related to reflux parameters but might come from ethnic/cultural factors to be further characterized.