01.01.2012 | Original Article | Ausgabe 1/2012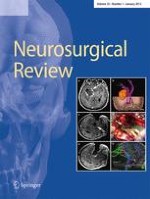 Supraorbital keyhole approach for removal of midline anterior cranial fossa meningiomas: a series of 20 consecutive cases
Zeitschrift:
Autoren:

Stefano Telera, Carmine Maria Carapella, Fabrizio Caroli, Francesco Crispo, Giovanni Cristalli, Laura Raus, Isabella Sperduti, Alfredo Pompili
Wichtige Hinweise
Comments
Madjid Samii, Venelin Gerganov, Hannover, Germany
In this well-written manuscript, Telera et al. present their experience with surgical removal of midline anterior fossa meningiomas via the supraorbital keyhole approach. The series includes 20 patients: five with olfactory meningiomas, 14 with tuberculum sellae meningiomas, and one with clinoidal meningioma. These patients were selected from a larger group of 37 patients with anterior cranial base meningiomas. Mean tumor size was 3.5 × 3 cm. Suprasellar meningiomas at other locations, tumors larger than 5 cm, significant calcification or lateral extension, severe bifrontal edema and with suspected subclinoidal or optic canal implant of the lesion were treated with "conventional approaches".
The authors provide a detailed description of the clinical findings and outcome of surgery. Gross total excision was achieved in 18 patients and subtotal resection in two patients. Out of 14 patients with visual deficits, 10 improved, one remained stable, and three deteriorated at the last follow-up. The analysis of the results confirmed the significant correlation between severity of pre-operative visual impairment and post-operative visual outcome. Two patients presented a recurrence 3 years after surgery: one of them had an atypical meningioma and the second had meningiomatosis. However, no information on the extent of resection in these cases is provided. Telera et al. honestly describe the complications and analyze their causes, which is commendable and valuable for the reader.
The limited frontolateral supraorbital craniotomy is currently widely used by many neurosurgeons and is regarded as a safe and less invasive approach that provides sufficient access to the frontal base and the sellar, suprasellar, and parasellar regions. There is, however, some confusion concerning the terminology—basically the same technique is labeled with different names, which is somewhat confusing. In this study, the authors used the "supraorbital keyhole craniotomy", as described by Perneczky and Jallo. The skin was incised along the eyebrow and a 3.5 × 2.5 cm large craniotomy was turned with the craniotome. A drawback related to such skin incision is the restriction of the exposure laterally by the temporal branch of the facial nerve and superiorly by the limited skin retraction. Furthermore, as noted by the authors, the use of vascularized pedicled pericranial flap for reconstruction of the frontal sinus is not possible. The incision of the skin behind the hairline, as we usually prefer, starting anterior to the tragus and reaching the midline at the anterior edge of the hairline, does not pose such restrictions and is related to a better cosmetic outcome. The eyebrow incision is an acceptable option in bald patients.
Early opening of the basal cisterns and ample release of CSF helps to avoid frontal lobe damage due to excessive traction. Lumbar drainage of CSF can be thus also avoided. Via this frontolateral approach, meningiomas originating from the olfactory groove, tuberculum sellae, planum sphenoidale, diaphragm sellae, and anterior clinoid as well as other tumors such as pituitary macroadenomas and craniopharyngiomas can be successfully removed. In this regard, we disagree with the conclusion of Telera et al. that conventional transcranial approaches should be preferred for meningiomas >5 cm, with significant lateral extension, invasion of the ethmoid sinuses, vascular encasement of ICA, large calcifications, and significant frontal lobe edema. Although the authors could unroof the optic canal in two cases without any approach-related restrictions, they regard the invasion of the optic canal by the tumor as contraindication for the supraorbital approach.
In the "
Discussion
" section, a comprehensive review of the relevant literature is provided. The authors conclude that the best surgical option for the individual patient cannot yet be standardized due to the still limited statistical data.
Francesco Prada, Francesco DiMeco, Milan, Italy
In this paper, Telera et al. retrospectively analyze a series of 20 midline anterior cranial fossa meningiomas operated on using a supraorbital keyhole approach. The series comprises 15 tuberculum sellae meningiomas and five olfactory groove meningiomas. The authors describe the clinical presentation and post-operative outcome of all cases. For tuberculum sellae meningiomas, they also provide an accurate assessment of pre-operative and post-operative visual status and statistical analysis. In addition, they thoroughly review the literature, provide a large overview of the different approaches for anterior midline skull base meningiomas, and compare their results with other major series.
Although hindered by a not insignificant morbidity (one death and one sever optic nerve damage), the series provides convincing evidence that the supraorbital keyhole approach may represent an elegant, simple, and valid alternative to more traditional approaches. However, we definitely agree with the authors that each case should be selected carefully considering tumor anatomy and surgeon's experience. Finally, the authors should be commended for the notable statistical and descriptive effort.
Abstract
The paper describes a retrospective study of a consecutive series of 20 midline anterior cranial fossa meningiomas (five of the olfactory groove, 14 of the tuberculum sellae, and one clinoidal), which were operated on via a supraorbital keyhole approach between 2002 and 2008. The series includes three males and 17 females (mean age 57 years, mean size of the tumors 3.5 × 3 cm, and mean follow-up 48 months). Gross total excision was achieved in 18 cases and subtotal resection in two. Out of 14 patients with visual deficits, nine patients improved, one remained stable, and three deteriorated. Two patients presented a recurrence 3 years after surgery. One peri-operative death was recorded. The subgroup of patients with tuberculum sellae meningiomas was analyzed in details. A meta-analysis of the major series of such meningiomas in the last 20 years has been performed in order to compare results of different surgical techniques. With regard to primary outcomes of these tumors, gross total removal, restoration of visual function, morbidity, mortality, and recurrence rates, the supraorbital approach, for selected cases, seems to offer valuable results, comparable with those reported in conventional and endoscopic approaches and with very low surgical aggressiveness. However, statistical data available from the literature, particularly on visual function, are still too limited to draw definitive conclusions. The best surgical option for the individual patient cannot yet be standardized and should be chosen on the basis of tumor anatomy, pre-operative clinical symptoms, and surgeon's experience.