05.06.2019 | How I Do it - Pituitaries | Ausgabe 8/2019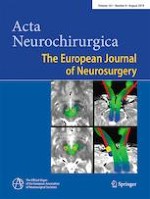 Supraorbital keyhole approach for suprasellar arachnoid cyst: how I do it
Zeitschrift:
Autoren:

A. Venier, M. Reinert, T. Robert
Wichtige Hinweise
Electronic supplementary material
This article is part of the Topical Collection on
Pituitaries
Key Points
1. Anatomical knowledge of superficial neurovascular structures is essential;
2. Only for expert surgeon with an appropriate learning curve to become familiar with narrow corridors and limited workspace;
3. Head extension is important to allow gravity retraction of the frontal lobes;
4. The keyhole location is crucial and should be placed only after fronto-zygomatic suture visualization;
5. The position and the oblique orientation of the craniotomy along the orbital roof have to be the most caudally possible;
6. The drilling of the orbital roof and the lesser sphenoid wing helps to open the supraorbital corridor;
7. Early extended opening of arachnoid cisterns to gain extra space is necessary;
8. Identification of optic nerves, chiasm, and internal carotid artery is critical;
9. Preoperative evaluation of frontal sinus and eyebrow is mandatory;
10. Shorter hospital stays and optimal cosmetic results.
Publisher's note
Springer Nature remains neutral with regard to jurisdictional claims in published maps and institutional affiliations.
Abstract
Background
Keyhole approaches have lately sparked strong interest because these approaches address skull base pathologies as reported by Eroglu et al. (World Neurosurg, 2019); Hickmann, Gaida, and Reisch (Acta Neurochir (Wien) 159:881–887, 2017); Jallo and Bognar (Neurosurgery, 2006); and Poblete et al. (J Neurosurg 122:1274–1282, 2015), minimizing brain retraction and improving cosmetic results. We describe the step-by-step surgical technique to drain a suprasellar arachnoid cyst by a supraorbital approach.
Method
The eyebrow incision is a direct route to expose the supraorbital corridor and even if it is smaller than a pterional approach, it permits to open the cisterns and to visualize neurovascular structures. The arachnoid cyst could be safely drained and a T-tube is placed.
Conclusion
This technique represents a suitable option for suprasellar arachnoid cyst, avoiding more extended and invasive approaches.