01.12.2018 | Research article | Ausgabe 1/2018 Open Access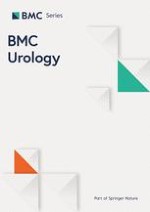 Suprapubic tube versus urethral catheter drainage after robot-assisted radical prostatectomy: a systematic review and meta-analysis
Zeitschrift:
Autoren:

Zhongyu Jian, Shijian Feng, Yuntian Chen, Xin Wei, Deyi Luo, Hong Li, Kunjie Wang
Abstract
Background
Prostate cancer is one of the most common cancers in the elderly population. The standard treatment is radical prostatectomy (RARP). However, urologists do not have consents on the postoperative urine drainage management (suprapubic tube (ST)/ urethral catheter (UC)). Thus, we try to compare ST drainage to UC drainage after robot-assisted radical prostatectomy regarding to comfort, recovery rate and continence using the method of meta-analysis.
Methods
A systematic search was performed in Dec. 2017 on PubMed, Medline, Embase and Cochrane Library databases. The authors independently reviewed the records to identify studies comparing ST with UC of patients underwent RARP. Meta-analysis was performed using the extracted data from the selected studies.
Results
Seven studies, including 3 RCTs, with a total of 946 patients met the inclusion criteria and were included in our meta-analysis. Though there was no significant difference between the ST group and the UC group on postoperative pain (RR1.73, P 0.20), our study showed a significant improvement on bother or discomfort, defined as trouble in hygiene and sleep, caused by catheter when compared two groups at postoperative day (POD) 7 in ST group (RR2.05, P 0.006). There was no significant difference between the ST group and UC group on urinary continence (RR0.98, P 0.74) and emergency department visit (RR0.61, P 0.11). The rates of bladder neck contracture and other complications were very low in both groups.
Conclusion
Compared to UC, ST showed a weak advantage. So it might be a good choice to choose ST over RARP.