Erschienen in: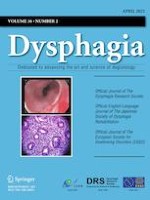 Open Access 22.05.2020 | Original Article
Surface Electromyographic Biofeedback and the Effortful Swallow Exercise for Stroke-Related Dysphagia and in Healthy Ageing
Erschienen in: Dysphagia | Ausgabe 2/2021
Abstract
Dysphagia is common after stroke, leading to adverse outcome. The Effortful Swallow (ES) is recommended to improve swallowing but it is not known if dysphagic patients can increase muscle activity during the exercise or if age affects performance. Providing surface electromyographic (sEMG) biofeedback during dysphagia therapy may enhance exercise completion, but this has not been investigated and the technique's acceptability to patients is not known. Aims: To determine if age or post-stroke dysphagia affect the ability to increase submental muscle activity during the ES, if sEMG biofeedback improves ES performance and if sEMG is an acceptable addition to therapy. In a Phase I study submental sEMG amplitudes were measured from 15 people with dysphagia < 3 months post-stroke and 85 healthy participants aged 18–89 years during swallowing (NS) and when they performed the ES with and without sEMG biofeedback. Participant feedback was collected via questionnaire. Measurements were compared with repeated measures ANOVA and age effects were examined with linear regression. Both groups produced significantly greater muscle activity for the ES than NS (
p
 < 0.001) and significantly increased activity with biofeedback (
p
 < 0.001) with no effect of age. Participant feedback about sEMG was very positive; over 98% would be happy to use it regularly. The ES is a physiologically beneficial dysphagia exercise, increasing muscle activity during swallowing. sEMG biofeedback further enhances performance and is considered an acceptable technique by patients. These findings support the potential application of sEMG biofeedback and the ES in dysphagia therapy in stroke, justifying further investigation of patient outcome.
Publisher's Note
Springer Nature remains neutral with regard to jurisdictional claims in published maps and institutional affiliations.
Introduction
Objectives
This preliminary (Phase I) study sought to determine:
1.
If age or stroke-related dysphagia affect the ability to increase submental muscle activity during the ES relative to habitual/normal swallowing (NS).
2.
If sEMG biofeedback improves the performance of the ES by healthy and dysphagic stroke participants.
3.
If participants find sEMG comfortable and helpful and whether they consider it would be an acceptable part of regular therapy.
Methods
Full ethical and R&D approvals were obtained for the study and informed written consent was gained from all participants.
Study Design
A Phase I observational study was conducted.
Participants
Healthy Participants
Healthy volunteers were recruited from King's College London, and Guy's and St Thomas' NHS Foundation Trust, UK. Inclusion criteria were age > 18 years and the ability to eat and drink a normal diet and fluids with no difficulty, determined by questioning and Functional Oral Intake Scale (FOIS), a validated 7-point scale that measures the functional severity of dysphagia [
41
]. Exclusion criteria were any history of dysphagia, stroke or other neurological or neuromuscular illness or head and neck cancer or surgery as determined by questioning. All healthy participants recruited were included in the study of the effects of ageing and this group was called "healthy participants". The first healthy participants recruited who were aged > 65 years were also allocated to form a healthy age-matched control group for direct comparison to stroke participants; this group was called "healthy controls".
Stroke Participants
Fifteen consecutive dysphagic acute stroke participants were recruited from the Stroke Unit at Guy's and St Thomas' Hospital NHS Foundation Trust. All those referred to SLT for swallowing assessment were approached. Inclusion criteria were ≤ 3 months post first stroke, referral to SLT for assessment and management of dysphagia, presence of dysphagia on Fibreoptic Endoscopic Evaluation of Swallowing (FEES) incorporating the Rosenbek Penetration-Aspiration scale [
42
], FOIS < 6 (i.e. requiring modification and/or restriction of oral intake); and ability to give informed consent with supported/total communication if necessary (as determined by their medical consultant and SLT). Exclusion criteria were FOIS score ≥ 6, any previous history of dysphagia, stroke, neurological illness and/or head and neck cancer or surgery.
Procedure
On recruitment to the study, the Barthel Index [
43
] was recorded for stroke participants and their swallowing was assessed with FEES following a standard protocol. Aspiration was assessed with the Penetration Aspiration Scale [
42
].
It was anticipated that a greater effect of biofeedback might be noted with practice and/or participants' views on the technique would be better established with time and therefore it was important to incorporate more than one session in the study design. Data was therefore collected over two sessions for all participants in order to assess reproducibility and to better establish the feasibility of the technique. In order to control for a learning effect masking the impact of biofeedback, participants were randomised as to whether they completed the tasks in the "with biofeedback" or "without biofeedback" condition first.
Electrode Placement
Prior to electrode placement, the skin was prepared by light abrasion and cleaning with chlorhexidine/alcohol wipes. EMG signals were recorded with the standard electrodes supplied by KayPentax for use with the Digital Swallow Workstation (DSW, KayPentax, NJ, USA); disposable circular adhesive electrode disks (57.2 mm in diameter) with three Ag/AgCl electrodes (diameter 12 mm). After application of electrode gel, two recording electrodes were placed longitudinally (inter-electrode distance 20 mm centre to centre) on the anterior neck, mid-way between the mental spine of the mandible and the hyoid bone, with the reference electrode to the side and taped in place (Fig.
1
). This configuration detects collective activity from bilateral submental muscles (mylohyoid, geniohyoid and anterior belly of the digastrics) [
30
]. The disks were taped in place (Micropore, MidMeds, Waltham Abbey, UK). Measurements were taken to ensure consistent positioning of electrodes between sessions and individuals.
×
sEMG Signal Processing
Signals were sampled at 1 kHz and automatically processed with the DSW in-built Swallow Signals Lab (SSL) and software i.e. filtered with a bandwidth of 50–220 Hz and a 12 dB/octave rolloff, full-wave rectified and then low passed filtered at 3 Hz.
Swallow Tasks
All participants were taught the ES and were instructed to "swallow hard, squeezing all of your throat muscles and pushing hard with your tongue on the roof of your mouth" [
30
,
44
]. For the NS, participants were asked to "swallow in your normal way". For each task, participants were given 5 ml boluses of water from a teaspoon and asked to hold the water in their mouth until asked to swallow. Those considered at high risk of aspiration on water from the FEES assessment, were given a teaspoon of their safest consistency or moistened mouth care swabs if they were nil by mouth, and the same bolus type was used across sessions.
Session Procedure
Prior to sEMG recording, the researcher (SA) observed participants practising the ES and palpated their laryngeal movement until she felt they had mastered it. Participants were randomised to complete the tasks with or without biofeedback first and repeated a series of swallow tasks in each condition in the following order: three normal swallows then 6 effortful swallows.
There was a 30 s rest between each bolus and the sequence was repeated after a 5 min rest so that each participant completed the series both with and without biofeedback. Biofeedback involved the participant watching the DSW screen while they completed the tasks. They were orientated to the information on the screen and verbally encouraged to increase the amplitude of the activity trace for each successive ES with cursors placed on the preceding attempt to give them a visual target to "beat". For the NS, no additional instructions were given. In the condition without biofeedback, participants completed the tasks with the DSW screen turned away from them while general verbal encouragement was given to swallow "harder". All participants were then invited to return for a second identical session in which the protocol was repeated. Sessions were scheduled > 24 h apart but within one week of each other to minimise the degree of change in swallowing status in stroke participants.
Questionnaire
At the end of the second session, participants completed a questionnaire in which they were asked 8 questions about their impression of completing the ES with and without sEMG feedback (Table
1
). Responses to questions 1 to 3 were made on a 5-point Likert-style scale from
very easy
to
very difficult
and for question 5 on a 4-point scale from
very comfortable
to
very uncomfortable.
The questionnaire was designed to be accessible to participants with aphasia, was in large print and was supported with pictures.
Table 1
Participant feedback questions
1. How easy were the exercises without surface Electromyography?
2. How easy was it to understand the information on the screen?
3. How easy were the exercises with surface Electromyography?
4. Did surface Electromyography help you with the exercises?
5. How comfortable was surface Electromyography?
6. What was good about using surface Electromyography?
7. What was bad about using surface Electromyography?
8. Would you be happy to use surface Electromyography regularly?
Data Analysis
Peak sEMG amplitudes were measured for each NS and ES task. The ES amplitudes were then normalised to the mean NS amplitude recorded within the same session, i.e. presented as a % of the mean normal swallow amplitude (%NS). Normalisation of sEMG data to a reference measurement taken from the same muscle in the same recording session is recommended to control for intrinsic and extrinsic factors affecting the raw signal that are unrelated to the level of muscle activation, for example the amount of fat and skin impedance and the orientation of the muscle fibres in relation to the recording electrodes [
45
]. This approach also presented how the NS and ES compared.
Normalised sEMG data and questionnaire responses are presented with means (SD) or medians (IQR) depending on distribution and type. Normalised sEMG data that was not normally distributed (Kolmogorov–Smirnov test, confirmed by histograms) was log-transformed (ln) and then normality was reassessed. This data was then used for all subsequent statistical analyses.
Ability to modify the trace for the ES compared with the normal swallow and the effects of biofeedback, session and participant group on ES performance were examined with two-way repeated measures analysis of variance (RM ANOVA) with the within subject factors "task" (i.e. normal swallow, ES with feedback (FB) and ES without FB) and "session" and the between subject factor "group" (i.e. healthy control
vs
stroke). Violations in sphericity were corrected with the Greenhouse–Geisser estimates of sphericity and post hoc pairwise comparisons were adjusted for multiple testing with the Bonferroni correction. The relationship between age and ability to benefit from biofeedback in healthy participants was examined with linear regression, with normalised FB ES amplitude as a percentage of ES without FB amplitude plotted against age.
For questionnaire data, within-group differences between questions were examined with the Wilcoxon Signed Rank Test. Differences between groups on questions were examined with the Kruskal–Wallis and the Mann–Whitney Test with adjustment for multiple testing with the Bonferroni correction.
Results
Participants
Fifteen acute stroke participants were recruited. Technical difficulties arose during the sEMG recording for one who was transferred to a different hospital before a second session could be conducted. Two further participants declined to have FEES. Therefore the results are based on 14 stroke participants, with baseline PAS scores available for 12 (Table
2
). One stroke participant who was randomised to receive feedback first was too fatigued to complete the session protocol and therefore did not repeat the tasks without feedback. Seventeen healthy participants were recruited as the control group (Table
2
). There were no significant differences between the two groups for age, sex or number of days between sessions (
p
 > 0.05). The stroke group had significantly lower FOIS and Barthel scores (
p
 < 0.001, Table
2
). Due to the severity of the stroke participants' dysphagia, only three could tolerate water; 5 participants had moistened oral care sponges, 4 had teaspoons of syrup thickened fluids, and two had teaspoons of yoghurt.
Table 2
Participant demographics
Stroke (14)

Healthy controls (17)

All healthy (85)

Age (years)

74.5 (61.3–83.3)

76.00 (74.5–81.5)

49.00 (29.0–70.0)

Sex

Male

9

10

42

Female

5

7

43

Barthel

4.0 *(0.0–10.8)

20.0 (20.0–20.0)

20.00 (20.0–20.0)

Stroke type

R MCA infarct (5)

L MCA infarct (3)

L PICA infarct (1)

L pontine infarct (1)

R thalamic haemorrhage (1)

R parietal haemorrhage (1)

Multiple posterior circulatory infarcts (1)

Multiple scattered lacunar infarcts (1)

n/a

n/a

Days from stroke to session 1

16.5 (7.0–1.3)

n/a

n/a

PAS on FEES

7.5 (5.3–8.0)

n/a

n/a

FOIS

4.0* (1.0–5.0)

7.0 (7.0–7.0)

7.00 (7.0–7.0)

Days between sessions

3.00 (1.0–4.0)

5.00 (1.5–7.0)

6.0 (4.0–7.0)
For the study of age-related changes, 85 healthy participants aged 18–89 years were recruited but 2 did not attend the second session (Table
2
). The sEMG amplitudes for all participant groups were not normally distributed for either session or both combined (≤ 0.001), justifying log transformation for statistical analysis. Questionnaire data was collected from all who completed the second session: 83 healthy and 14 stroke participants.
Does Age Affect the Ability to Increase Submental Muscle Activity During the ES?
There was no change in amplitude for the ES with or without feedback with age (
r
 = 0.178,
p
 = 0.110, Fig.
2
). One participant produced markedly increased amplitude for ES compared with the others (participant 28). They also reported that the electrode and tape were "restrictive" on his swallow (see questionnaire data, following). It may be that the equipment was secured too tightly, which then led to electrode movement with hyo-laryngeal excursion and poor electrode contact contaminated the data. This participant's data was removed from further analysis as it was a clear outlier.
×
Does Post-stroke Dysphagia Affect the Ability to Increase Submental Muscle Activity During the ES?
Healthy controls produced greater median normalised ES amplitudes than stroke participants in all conditions and sessions (Fig.
3
); for example healthy controls performing ES with FB produced median amplitudes of 199.12% NS vs 147.53% NS by stroke participants across both sessions. However there was no significant main effect of participant group (
p
 = 0.113). There was a significant main effect of swallowing task (ES vs NS);
F
(1.157, 32.385) = 43.202, p < 0.001. On post hoc tests, ES tasks resulted in significantly higher amplitudes than the normal swallow; for ES with FB the ln mean difference was 18.233 (SE 2.709,
p
 < 0.001) and for ES without FB the ln mean difference was 13.964 (SE 2.064,
p
 < 0.001). This indicates that both stroke participants and healthy controls were able to modify the sEMG trace above their normal level of swallowing activity for the ES exercise (Fig.
3
,
4
).
×
×
Does sEMG Biofeedback Improve the Performance of the ES by Healthy and Dysphagic Participants?
For all healthy participants (
n
 = 82), there was again a significant main effect of swallowing task on amplitude (
F
(1.032,83.599) = 46.674,
p
 < 0.001, Fig.
3
) with no effect of session. Post hoc tests revealed that ES amplitudes were significantly larger with FB than without: ln mean difference 3.538 (SE 0.518,
p
 < 0.001). The median for the ES with FB was 266.74% NS and for the ES without FB was 235.17% NS. For stroke participants and healthy age-matched controls there was no effect of participant group or session but ES amplitudes were significantly increased with FB; ln mean difference 4.324 (SE 1.042,
p
 = 0.001, Fig.
3
). Healthy controls median normalised amplitude for ES with FB was 199.12% NS vs 172.78% NS for ES without FB; for stroke participants the median normalised amplitudes were 147.53% NS vs 141.39% NS respectively. There was no difference with age on the effect of biofeedback on ES amplitude (
r
2
 = 0.001,
p
 = 0.93).
What do Participants Think About sEMG Biofeedback?
The majority of healthy (83%,
n
 = 69) and stroke (86%,
n
 = 12) participants reported that sEMG feedback helped them to complete the exercise and that they would be happy to use it regularly (99%
n
 = 82 and 100%
n
 = 14, respectively). Participants were asked what was good about sEMG feedback and frequent responses related to having visual feedback on performance and progress, having a target to aim for and it being interesting and enjoyable. No participants entered "nothing" in response to this question. The most frequent response to the question about what was bad about sEMG was "nothing", by 47% (
n
 = 39) of healthy and 79% (
n
 = 11) of stroke participants. Other responses were that that the electrode placement felt odd and that the process was distracting (Table
3
).
Table 3
Responses to the questionnaire about sEMG biofeedback by healthy (
n
 = 83) and stroke (
n
 = 14) participants
Group

What was good about using sEMG?

What was bad about using sEMG?

Visual feedback about performance and progress/re-enforcing correct technique

38.6 (32)

Nothing

47.00 (39)

Feels odd/unnatural/ "stiffening"/ felt like the restriction of the pad may have changed swallow

8.4 (7)

Could see what I was trying to achieve and aim for/gave me a target/personal best

21.7 (18)

Distracting

6.0 (5)

Interesting/fascinating

18.1 (15)

Abrasive skin preparation

3.6 (3)

Made it fun/enjoyable

10.8 (9)

Taking off the electrodes

2.4 (2)

Helped me to understand the exercise/swallowing

7.2 (6)

Confusing

2.4 (2)

Fatigue

1.2 (1)

Non invasive

4.8 (4)

Made me cough

1.2 (1)

Quick and easy to set up

3.6 (3)

Used other muscles to complete task

1.2 (1)

Helped motivate/encourage me

3.6 (3)

It is quite hard to swallow normally when you know you are being tested

1.2 (1)

Easy to understand

3.6 (3)

Comfortable

3.6 (3)

Felt under pressure to meet target

1.2 (1)

Being able to see the muscles working

2.4 (2)

Position of the screen above my head, would have been better at eye-level

1.2 (1)

Screen clear/easy to see

2.4 (2)

No comment

6.0 (5)

Large equipment, small, portable version would be nicer

1.2 (1)

Coordinating EMG, spoon and swallow together was hard at first

1.2 (1)

No comment

4.8 (4)

I could see how I was doing which was helpful

35.7 (5)

Nothing

78.6 (11)

Made it a challenge/gives you a target

14.3 (2)

Didn't like smell of alcohol wipe

7.1 (1)

Helps you know how to practise

7.1 (1)

Didn't like electrodes stuck

7.1 (1)

You know what you have to do after the session

7.1 (1)

My feedback loop is not strong enough. Not clear what to do to improve things

7.1 (1)

Very happy with the system

7.1 (1)

Motivating

7.1 (1)

Measurement of muscles

7.1 (1)

You (SLT) can see how I am doing

7.1 (1)

No comment

21.4 (3)
When stroke participants' responses were compared with healthy age and sex matched controls (
n
 = 15), the most frequent response to the question "How easy was the effortful swallow exercise without biofeedback?" was "very easy" for healthy controls (59%;
n
 = 10) and "quite easy" for stroke participants (43%;
n
 = 6), but responses were spread across the possible range for stroke participants, with 14% (
n
 = 2) reporting that it was "quite" or "very difficult" (Fig.
5
a). Stroke participants scored significantly higher for this question (i.e. reported they found the exercise more difficult than controls) (
z
 = 2.69,
p
 = 0.007). The responses to the question "How easy was the effortful swallow exercise with sEMG biofeedback" were more positive, with the most frequent response being "very easy" for both groups (82% of healthy and 43% of stroke participants) and no participants reporting it was difficult. Again, stroke participants responses indicated they found the exercise significantly more difficult than controls (
z
 = 2.22,
p
 = 0.026, Fig.
5
b).
×
Both healthy and stroke participants reported finding the exercises significantly easier with the sEMG biofeedback than without (
z
 = 2.24,
p
 = 0.025 and
z
 = 2.64,
p
 = 0.008, respectively). There were no other statistically significant differences between the groups on the other questionnaire items and both groups indicated that they largely found the procedure comfortable and easy to understand (Fig.
5
c, d). The majority (86%,
n
 = 12) of stroke participants and all healthy controls reported that sEMG helped them with the exercise. All stroke participants and age and sex matched controls stated that they would be happy to use sEMG regularly if appropriate.
Discussion
This study has shown for the first time that dysphagic stroke patients are able to significantly increase their muscle activity for the ES exercise. Incorporating sEMG biofeedback led to further significant increases in sEMG amplitudes and was considered a positive adjunct to therapy by participants. These findings are supportive of the potential application of the ES and sEMG biofeedback to treat swallowing impairments after stroke, justifying further work to examine therapy outcomes.
Conclusion
For the first time the ability of dysphagic stroke participants to modify muscle activity during the ES has been shown. This justifies further study of the ES as it complies with the "overload" and "use it or lose it" principles of rehabilitation [
7
,
50
]. Furthermore, both healthy and stroke participants produced more muscle activity with feedback, indicating that it could be a valuable adjunct to ES training. The results of the participant questionnaire are encouraging with respect to the acceptability of sEMG biofeedback to patients. Participants were positive in their comments and expressed the perceived benefits of the technique in terms of feedback, monitoring and target setting. These findings support consideration of sEMG biofeedback as a useful adjunct in dysphagia therapy, which may both improve patient enjoyment and motivation as well as enhancing performance. Further trials are now indicated to determine the functional benefit of these treatments.
Compliance with Ethical Standards
Conflict of interest
The authors declare that they have no conflict of interest.
Ethical Approval
All procedures performed in studies involving human participants were in accordance with the ethical standards of the institutional and national research committee (Guy's Research Ethics Committee reference 10/H0804/17) and with the 1964 Helsinki declaration and its later amendments or comparable ethical standards.
Informed Consent
Informed consent was obtained from all individual participants included in the study.
Open Access
This article is licensed under a Creative Commons Attribution 4.0 International License, which permits use, sharing, adaptation, distribution and reproduction in any medium or format, as long as you give appropriate credit to the original author(s) and the source, provide a link to the Creative Commons licence, and indicate if changes were made. The images or other third party material in this article are included in the article's Creative Commons licence, unless indicated otherwise in a credit line to the material. If material is not included in the article's Creative Commons licence and your intended use is not permitted by statutory regulation or exceeds the permitted use, you will need to obtain permission directly from the copyright holder. To view a copy of this licence, visit
http://​creativecommons.​org/​licenses/​by/​4.​0/​
.
Publisher's Note
Springer Nature remains neutral with regard to jurisdictional claims in published maps and institutional affiliations.