07.10.2016 | Breast Oncology | Sonderheft 5/2016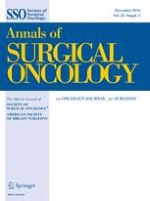 Surgeon Volume, Patient Age, and Tumor-Related Factors Influence the Need for Re-Excision After Breast-Conserving Surgery
Zeitschrift:
Autoren:

BSc L. Hughes, MSc J. Hamm, MSc C. McGahan, MD C. Baliski
Abstract
Background
Breast-conserving surgery (BCS) is the preferred surgical approach for the majority of patients with early-stage breast cancer. There are frequent issues regarding pathologic margin status, requiring margin re-excision, and, in the literature, there is significant variability in re-excision rates, suggesting this is a potential quality-of-care issue. Understanding the patient-, disease-, and physician-related factors influencing reoperation rates is of importance in an effort to minimize this occurrence.
Methods
A retrospective analysis of all patients referred to our cancer center over a 3-year period (1 January 2011–31 December 2013) was performed. Surgeon volume, and patient- and tumor-related factors were assessed for their impact on re-excision rates. Multivariate logistic regression analysis was performed to identify variables of significance influencing reoperation rates after attempted BCS.
Results
Overall, 594 patients underwent initial BCS, with 159 (26.8%) patients requiring at least one re-excision to ensure negative pathologic margins. On multivariate analysis, low surgeon case volume, patient age (under 46 years of age), tumor size (>2 cm), and lobular carcinoma were associated with an increased re-excision rate.
Conclusion
Re-excisions are frequent after BCS and are influenced by surgeon volume, patient age, and tumor-related factors. These factors should be considered when counseling patients considering BCS, and also for quality assurance.