01.12.2015 | Research article | Ausgabe 1/2015 Open Access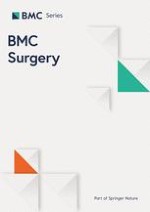 Surgical decision-making in acute appendicitis
Zeitschrift:
Autoren:

Eva Sandell, Maria Berg, Gabriel Sandblom, Joar Sundman, Ulf Fränneby, Lennart Boström, Åke Andrén-Sandberg
Wichtige Hinweise
Competing interests
The authors declare that they have no competing interests.
Author contributions
ES has been involved in all parts of the study. GS and ÅAS has been the mentors of the study and taken part in all parts except inclusion of patients. MB and JS have been taken part in the planning of the study, inclusion of patients and finalizing the manuscript. UF and LB have been involved in drafting the manuscript and revising the manuscript critically for important intellectual content. All authors read and approved the final manuscript.
Abstract
Background
Acute appendicitis is one of the most common acute abdominal conditions. Among other parameters, the decision to perform surgical exploration in suspected appendicitis involves diagnostic accuracy, patient age and co-morbidity, patient's own wishes, the surgeon's core medical values, expected natural course of non-operative treatment and priority considerations regarding the use of limited resources. Do objective clinical findings, such as radiology and laboratory results, have greater impact on decision-making than "soft" clinical variables? In this study we investigate the parameters that surgeons consider significant in decision-making in cases of suspected appendicitis; specifically we describe the process leading to surgical intervention in real settings.
The purpose of the study was to explore the process behind the decision to undertake surgery on a patient with suspected appendicitis as a model for decision-making in surgery.
Methods
All appendectomy procedures (
n
 = 201) at the Department of Surgery at Karolinska University Hospital performed in 2009 were retrospectively evaluated. Every two consecutive patients seeking for abdominal pain after each case undergoing surgery were included as controls. Signs and symptoms documented in the medical records were registered according to a standardized protocol. The outcome of this retrospective review formed the basis of a prospective registration of patients undergoing appendectomy. During a three- month period in 2011, the surgeons who made the decision to perform acute appendectomy on 117 consecutive appendectomized patients at the Karolinska University Hospital, Huddinge, and Södersjukhuset, were asked to answer a questionnaire about symptoms, signs and diagnostic measures considered in their treatment decision. They were also asked which three symptoms, signs and diagnostic measures had the greatest impact on their decision to perform appendectomy.
Results
In the retrospective review, tenderness in the right fossa had the greatest impact (OR 76) on treatment decision. In the prospective registration, the most frequent symptom present at treatment decision was pain in the right fossa (94 %). Tenderness in the right fossa (69 %) was also most important for the decision to perform surgery. Apart from local status, image diagnostics and blood sample results had the greatest impact.
Conclusion
Local tenderness in the right fossa, lab results and the results of radiological investigations had the greatest impact on treatment decision.