01.06.2014 | Head and Neck | Ausgabe 6/2014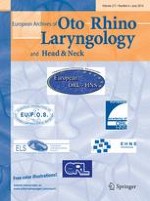 Surgical management of elongated styloid process: intraoral or transcervical?
Zeitschrift:
Autoren:

Togay Müderris, Sami Bercin, Ergün Sevil, Süha Beton, Muzaffer Kırıs
Abstract
The purpose of this study is to compare the results of surgical approaches in management of elongated styloid process. Eight patients with Eagle's syndrome due to elongated styloid process were included in this study. All necessary preoperative diagnostic work-ups were done and four of them were operated transorally and four were operated extraorally. Preoperative and postoperative symptoms and postoperative patient satisfaction were investigated. No early or late postoperative complications were encountered in transoral group. One of the patients who was operated transcervically experienced a transient weakness in the marginal mandibular branch of facial nerve which resolved spontaneously within 2 weeks. Complete remission of symptoms was achieved in seven patients at the final follow-up, only one of the patients, who was operated intraorally, had partial remission. Only one of the patients who had unilateral excision of elongated styloid process transcervically complained about the permanent scar. Transoral approach is a safe surgical alternative achieving adequate treatment. The advantages of intraoral approach include less surgical travma, less surgical time and lack of servical scar, with similar outcomes when compared with transcervical approach.