13.05.2017 | Review Article | Ausgabe 3/2017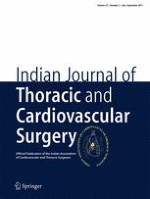 Surgical management of ischemic mitral regurgitation
Autoren:

George Jose Valooran, Shiv Kumar Nair, Rinett Sebastian
ABSTRACT
Introduction
Ischemic mitral regurgitation (IMR) portends a dismal survival rate for the afflicted irrespective of the type of surgical intervention. The treatment of moderate IMR has been a subject of debate with recent evidence citing similar survival statistics with revascularisation alone/revascularisation with mitral valve surgery approaches. The recognition of left ventricular (LV) reverse remodelling as the key factor determining the progression of IMR has resulted in a paradigm shift in the surgical management of IMR.
Materials and methods
Literature review was done in Pubmed and Scopus to identify relevant articles pertaining to the pathophysiology, diagnosis and treatment of IMR with the view of writing a narrative review on the subject.
Results
The similar long-term outcomes following mitral valve repair/replacement strategies for IMR has led to a resurgence of interest in primarily replacing the valve employing chordal preservation techniques especially in the setting of high probability of repair failure. Although mitral valve annuloplasty remains the most utilised surgical technique in IMR correction, several ingenious techniques tackling the various components of the valve apparatus continue to evolve.
Conclusions
From the current understanding, IMR is primarily a valvular manifestation of ischemic ventricular disease and hence, myocardial revascularisation forms the key element in the surgical treatment of IMR with or without adjunctive mitral valve repair/replacement.