13.07.2020 | Surgical Management of Massive Irreparable Cuff Tears (J Sanchez-Sotelo, Section Editor) | Ausgabe 5/2020 Open Access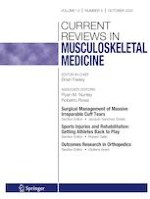 Surgical Management of Massive Irreparable Cuff Tears: Latissimus Dorsi Transfer for Posterosuperior Tears
Zeitschrift:
Autoren:

Karl Wieser, Lukas Ernstbrunner, Matthias A. Zumstein
Wichtige Hinweise
This article is part of the Topical Collection on
Surgical Management of Massive Irreparable Cuff Tears
Publisher's note
Springer Nature remains neutral with regard to jurisdictional claims in published maps and institutional affiliations.
Introduction
The generated forces of co-contracting rotator cuff muscles stabilize the humeral head within the glenoid concavity providing a stable fulcrum for optimal force transmission of the deltoid, rotator cuff, and periscapular muscles. Rupture of the rotator cuff tendons is common and might cause disruption of this delicately balanced force couple of anterior (subscapularis) and posterior (infraspinatus and teres minor) rotator cuff. With tear progression, joint compression forces and stability within the glenohumeral joint decrease, leading to diminished range of motion and strength.
The incidence of asymptomatic tears in patients over 60 years of age is high [
1
,
2
], and up to 40% of all rotator cuff tears (RCTs) are classified as massive [
3
–
5
]. A general definition of massive RCTs (mRCTs) includes involvement of two or more tendons [
6
]. If the RCT involves the posterosuperior cuff, typical functional deficits are weakness of abduction and external rotation with diminished overhead function [
7
,
8
••]. However, the clinical presentation of patients with posterosuperior mRCTs can vary widely from slight weakness and pain to pseudoparesis or even paralysis (PP) [
9
–
11
] with loss of control of the arm in space [
12
,
13
]. The hallmarks of chronic RCTs are atrophy [
14
], fatty infiltration [
15
], and myotendinous retraction [
16
], which can be assessed and quantified on MRI- or CT arthrography. Conventional radiographic changes associated with massive posterosuperior RCTs are cranial migration of the humeral head and progressive glenohumeral osteoarthritis (OA) [
12
,
13
].
If fatty infiltration of the torn muscles is greater than stage 2 according to the Goutallier classification [
15
], and the acromiohumeral distance is less than 7 mm, the probability for successful structural rotator cuff repair becomes so low that these mRCTs are generally considered irreparable (functionally irreparable rotator cuff tear (FIRCT)) [
17
]. With loss of the compressive force yielded through the rotator cuff, eccentric loads are placed upon the glenoid leading to erosion and early OA. Treatment should aim to restore more centred joint mechanics, which theoretically could slow the progression of OA, and to reconstitute the posterior rotator cuff and force couple, and thus shoulder function; these goals are particularly important in younger patients with high demands. The latissimus dorsi transfer (LDT) has been described to function as such external rotator and humeral head depressor [
18
] and is a reliable treatment option to alleviate pain and functional disability associated with irreparable posterosuperior RCTs in younger patients [
7
,
8
••,
19
–
21
].
Clinical Presentation
Clinical findings in patients with FIRTC can vary widely from slight weakness and pain to substantial loss of active shoulder function. Large tears after trauma oftentimes present with sudden loss of shoulder function [
22
], whereas chronic RCTs are usually associated with slow and progressive loss of function with increasing pain. Not all RCTs are symptomatic; if the remaining cuff and periscapular muscles are strong enough to compensate the torn rotator cuff tendons, FIRCTs can be associated with almost normal shoulder function and no pain.
The main disability experienced by many patients with a FIRCT is weakness with the arm away from the body. Posterosuperior FIRCTs typically cause weakness of elevation and external rotation [
23
]. There is a wide range of such
weakness
which ranges from slightly, nonquantifiable weakness to complete loss of active function of the respective muscle, so-called pseudoparalysis. The definition of pseudoparalysis is still under debate. Some surgeons use the term pseudoparalysis when there is no glenohumeral motion, and very limited elevation is provided through scapulothoracic motion only; pseudoparesis could be defined by the pain-free inability of actively abduct to 90° with normal passive range of motion and absence of neurologic impairment [
17
]. Conversely, pseudoparalysis of external rotation is defined as complete loss of active external rotation strength in the presence of unrestricted passive external rotation and absence of neurologic impairment, which can be assessed using the Neer drop-arm sign [
24
], the external rotation lag sign [
25
], or the hornblower's sign [
8
,
26
]. A functioning teres minor muscle is one of the factors associated with better outcome after LDT, and its function can be assessed through the so-called external rotation position 2—the arm in 90° of abduction—while evaluating external rotation against resistance. A positive hornblower's sign is therefore likely associated with tear extension from the infraspinatus into the teres minor, which might negatively influence the final outcome of a LD tendon transfer.
Examination of the shoulder should also include subscapularis function (i.e. lift-off, belly-press, and bear hug tests). Obvious dynamic anterosuperior subluxation of the humerus upon resisted abduction is suggestive of an irreparable posterosuperior with additional subscapularis tear. In case of complete pseudoparalysis and/or a dynamic anterosuperior escape of the humeral head, which is most likely associated with an irreparable subscapularis tear [
27
–
29
], a LDT will not be able to substantially improve shoulder function and is therefore not indicated in such severely functionally impaired shoulders.
Imaging
True anteroposterior radiographs are useful to assess glenohumeral OA [
30
] and static superior migration of the humeral head. A static, not reducible, chronic acromiohumeral distance of < 7 mm on plain anteroposterior radiographs with the arm in neutral rotation has been reported to be strongly associated with FIRCTs [
10
,
17
]. The critical shoulder angle (CSA) should be assessed as well, as a wide lateral extension of the acromion in the coronal plane is associated with worse outcome after LDT [
20
••]. Axillary lateral and scapular lateral radiographs should be assessed for anterior or posterior subluxation of the humeral head.
MR imaging is useful to assess the quality of rotator cuff tendons and its muscles. Fatty infiltration of the supraspinatus and infraspinatus muscles greater than stage 2 according to Goutallier [
15
] or the MRI modification thereof [
31
] is known to be associated with irreparability of RCTs [
32
,
33
] (Fig.
1
).
×
Integrity of the subscapularis and teres minor tendons and quality of the corresponding muscles should be assessed as they either need to be addressed intraoperatively and/or influence the clinical outcome.
Treatment Options
Nonoperative Treatment
Although there is no evidence that conservative treatment alters the natural history of FIRCTs, good clinical results after conservative treatment have been reported [
34
]. If the cuff tear is irreparable, as long as functional impairment and pain are tolerated, nonoperative management including physiotherapy, nonsteroidal anti-inflammatory medications and corticosteroid injections can be considered.
Surgical Treatment
Patients with FIRCT who fail nonoperative management can be considered for surgical treatment, which may include arthroscopic debridement with biceps tenotomy or tenodesis, partial RCT repair with or without augmentation, superior capsular reconstruction, tendon transfers, and reverse total shoulder arthroplasty (RTSA) [
8
,
35
–
38
]. Arthroscopic debridement and partial repair have been proved to provide reliable pain relief [
39
,
40
], but these procedures do not seem to halt or substantially decrease the progression of glenohumeral OA [
40
,
41
]. There is good evidence to suggest that successful repair of massive RCTs provides excellent clinical long-term results and that progression of glenohumeral OA can be decelerated [
6
,
42
–
44
]. RTSA has been shown to provide satisfactory long-term results for massive, irreparable RCTs in elderly and even in younger patients after failed rotator cuff repair [
10
,
11
,
17
,
45
]. However, the biomechanics of RTSA does not allow for restoration of a good arc of external rotation in patients with pseudoparalysis of external rotation. Furthermore, in young and active patients without signs of OA, joint-preserving options such as tendon transfers should be considered beforehand.
When considering a tendon transfer, the following principles should be fulfilled: (1) the transferred muscle should be expendable without compromising the donor site, (2) the transferred and recipient muscle should have a similar excursion and tension, and (3) the line of pull (vector) of the transferred tendon and recipient muscle should be as similar as possible [
18
].
Latissimus Dorsi Transfer
Conclusions
The LDT (open or arthroscopically assisted) is a reliable treatment option with substantial and durable improvement of pain and shoulder function for patients with massive, irreparable posterosuperior RCT with disabling loss of active external rotation, with or without diminished overhead function, and without glenohumeral osteoarthritis. The long-term failure rate is about 10%, and 4% of patients need revision to RTSA after 10 years. Careful patient selection is of tremendous importance in the success of the LDT. Teres minor degeneration, associated irreparable subscapularis tears, a high CSA, and advanced age are risk factors for unsatisfactory outcome.
Compliance with Ethical Standards
Conflict of Interest
Karl Wieser declares that he has no conflict of interest related to this study.
Lukas Ernstbrunner declares that he has no conflict of interest related to this study.
Matthias Zumstein declares that he has no conflict of interest related to this study.
Open Access
This article is licensed under a Creative Commons Attribution 4.0 International License, which permits use, sharing, adaptation, distribution and reproduction in any medium or format, as long as you give appropriate credit to the original author(s) and the source, provide a link to the Creative Commons licence, and indicate if changes were made. The images or other third party material in this article are included in the article's Creative Commons licence, unless indicated otherwise in a credit line to the material. If material is not included in the article's Creative Commons licence and your intended use is not permitted by statutory regulation or exceeds the permitted use, you will need to obtain permission directly from the copyright holder. To view a copy of this licence, visit
http://​creativecommons.​org/​licenses/​by/​4.​0/​
.
Publisher's note
Springer Nature remains neutral with regard to jurisdictional claims in published maps and institutional affiliations.