03.07.2019 | Case Report | Ausgabe 6/2019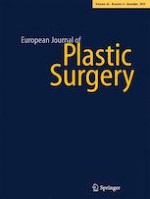 Surgical outcome of the patient with open proximal phalangeal fracture with bone defect due to dog bite injury treated with vascularized bone graft: a case report
Zeitschrift:
Autoren:

Koichi Yano, Yasunori Kaneshiro, Ryosuke Iio, Hideki Sakanaka
Wichtige Hinweise
Level of evidence: Level V, therapeutic study
Publisher's note
Springer Nature remains neutral with regard to jurisdictional claims in published maps and institutional affiliations.
Abstract
A dog bite injury involving joints and bones has poor prognosis. We described a case of open proximal phalangeal fracture with bone defect of the left index finger due to dog bite injury. The patient was treated successfully with a pedicled second metacarpal vascularized bone graft based on the second dorsal metacarpal artery following debridement and external fixation. Subsequently, extensor tendon tenolysis wrapped with adipofascial flap based on the first dorsal metacarpal artery was performed. After obtaining supple joint of the finger, flexor tendon tenolysis was performed. The postoperative course was uneventful, without infection. Nineteen months after the last operation, there was slight pain in the finger at power grip, but no disability in activities of daily life and work. The total active motion of the left index finger was 245°, and plain radiography showed bony union without osteoarthritic change. Good clinical outcome was obtained through a combination of staged surgery.
Level of evidence: Level V, therapeutic study.