01.12.2017 | Research | Ausgabe 1/2017 Open Access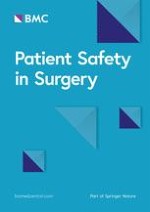 Surgical site infection and its associated factors following cesarean section: a cross sectional study from a public hospital in Ethiopia
Zeitschrift:
Autoren:

Kelemu Abebe Gelaw, Amlaku Mulat Aweke, Feleke Hailemichael Astawesegn, Birhanu Wondimeneh Demissie, Liknaw Bewket Zeleke
Abstract
Background
A cesarean section is a surgical procedure in which incisions are made through a woman's abdomen and uterus to deliver her baby. Surgical site infections are a common surgical complication among patients delivered with cesarean section. Further it caused to increase maternal morbidity, stay of hospital and the cost of treatment.
Methods
Hospital based cross-sectional study was conducted to assess the magnitude of surgical site infection following cesarean Site Infections and its associated factors at Lemlem Karl hospital July 1, 2013 to June 30, 2016. Retrospective card review was done on 384 women who gave birth via cesarean section at Lemlem Karl hospital from July 1, 2013 to June 30, 2016. Systematic sampling technique was used to select patient medical cards. The data were entered by Epi info version 7.2 then analyzed using Statistical Package for Social Sciences windows version 20. Both bivariate and multivariate logistic regression was done to test association between predictors and dependent variables.
P
value of < 0.05 was considered to declare the presence of statistically significantly association.
Results
Among 384 women who performed cesarean section, the magnitude of surgical site infection following cesarean section Infection was 6.8%. The identified independent risk factors for surgical site infections were the duration of labor AOR=3.48; 95%CI (1.25, 9.68), rupture of membrane prior to cesarean section AOR=3.678; 95%CI (1.13, 11.96) and the abdominal midline incision (AOR=5.733; 95%CI (2.05, 16.00).
Conclusions
The magnitude of surgical site infection following cesarean section is low compare to other previous studies. The independent associated factors for surgical site infection after cesarean section in this study: Membranes rupture prior to cesarean section, duration of labor and sub umbilical abdominal incision. In addition to ensuring sterile environment and aseptic surgeries, use of WHO surgical safety checklist would appear to be a very important intervention to reduce surgical site infections.