17.05.2018 | main topic | Ausgabe 3/2018 Open Access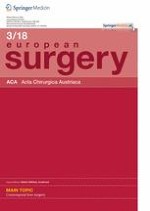 Surgical techniques and strategies for the treatment of primary liver tumours: hepatocellular and cholangiocellular carcinoma
Zeitschrift:
Autoren:

Eva Braunwarth, Stefan Stättner, Margot Fodor, Benno Cardini, Thomas Resch, Rupert Oberhuber, Daniel Putzer, Reto Bale, Manuel Maglione, Christian Margreiter, Stefan Schneeberger, Dietmar Öfner, MD Florian Primavesi
Main novel aspects
A short summary on the latest advances in open and laparoscopic liver surgery

Update on recent developments to integrate surgery in the multidisciplinary treatment of primary liver tumours

Review of recently published papers through literature search regarding surgical treatment of hepatocellular carcinoma and cholangiocarcinoma
Introduction
Liver resections are performed to manage both benign and malignant pathologies, with the majority undertaken for primary or secondary liver tumours. These procedures have long been regarded as one of the most challenging in general surgery, due to high perioperative morbidity and mortality. With refinements of surgical techniques leading to reduced blood loss, enhanced rates of complete tumour resection and increased residual liver function, as well as better imaging, appropriate patient selection and modern anaesthesia [
1
], liver surgery has experienced great improvements in terms of postoperative outcome and long-term survival in the past decades [
2
].
This article focuses on technical aspects, strategies and outcomes of commonly applied techniques for the surgery of primary liver tumours, namely hepatocellular carcinoma and cholangiocarcinoma, indications that still remain most demanding within the field of hepatobiliary surgery. Topics covered include open surgical procedures, laparoscopic liver resection (LLR) and the role of systemic therapies within curative treatment concepts. Ablation and other local therapies will be discussed in the article on interventional oncology by Putzer et al. in this special edition of
European Surgery
.
Techniques in liver surgery
Hepatocellular carcinoma
Cholangiocarcinoma
Cholangiocarcinoma (CC) is a very heterogenous and rare group of neoplasms originating from the intrahepatic or extrahepatic (perihilar or distal) bile duct epithelium. This section will focus on intrahepatic (ICC) and hilar extrahepatic CC (hECC), since distal tumours are usually treated with bile duct and/or pancreatic resection alone and mostly do not require liver surgery.
Conflict of interest
E. Braunwarth, S. Stättner, M. Fodor, B. Cardini, T. Resch, R. Oberhuber, D. Putzer, R. Bale, M. Maglione, C. Margreiter, S. Schneeberger, D. Öfner and F. Primavesi declare that they have no competing interests.
Open Access
This article is distributed under the terms of the Creative Commons Attribution 4.0 International License (
http://​creativecommons.​org/​licenses/​by/​4.​0/​
), which permits unrestricted use, distribution, and reproduction in any medium, provided you give appropriate credit to the original author(s) and the source, provide a link to the Creative Commons license, and indicate if changes were made.