01.06.2014 | Original Paper | Ausgabe 6/2014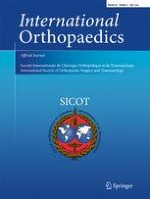 Surgical therapy of primary malignant bone tumours and soft tissue sarcomas of the chest wall: a two-institutional experience
Zeitschrift:
Autoren:

Joerg Friesenbichler, Andreas Leithner, Werner Maurer-Ertl, Joanna Szkandera, Patrick Sadoghi, Andreas Frings, Alfred Maier, Dimosthenis Andreou, Reinhard Windhager, Per-Ulf Tunn
Abstract
Purpose
Primary malignant bone tumours and soft tissue sarcomas of the chest wall are exceedingly rare entities. The aim of this study was a retrospective two-institutional analysis of surgical therapy with respect to the kind and amount of the resection performed, the type of reconstruction and the oncological outcome.
Methods
Between September 1999 and August 2010 31 patients (seven women and 24 men) were treated due to a primary malignant bone tumour or soft tissue sarcoma of the chest wall in two centres. Eight low-grade sarcomas were noted as well as 23 highly malignant sarcomas. The tumours originated from the sternum in six cases, from the ribs in 12 cases, from the soft tissues of the thoracic wall in 11 cases and from a vertebral body and the clavicle in one case each.
Results
In 26 cases wide resection margins were achieved, while four were intralesional and one was marginal. In all 31 cases the defect of the chest wall was reconstructed using mesh grafts. At a mean follow-up of 51 months 20 patients were without evidence of disease, three were alive with disease, seven patients had died and one patient was lost to follow-up. One recurrence was detected after wide resection of a malignant triton tumour.
Conclusions
Primary malignant bone tumour or soft tissue sarcoma of the chest wall should be treated according to the same surgical oncological principles as established for the extremities. Reconstruction with mesh grafts and musculocutaneous flaps is associated with a low morbidity.