01.12.2018 | Research article | Ausgabe 1/2018 Open Access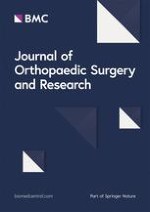 Surgical treatment indications and outcomes in patients with spinal metastases in the cervicothoracic junction (CTJ)
Zeitschrift:
Autoren:

Zemin Li, Houqing Long, Rui Guo, Jinghui Xu, Xiaobo Wang, Xing Cheng, Yangliang Huang, Fobao Li
Abstract
Background
The cervicothoracic junction (CTJ) site accounts for approximately 10% of all spinal metastases. The complex anatomical and biomechanical features increase the difficulty in surgical treatment of the CTJ metastases. However, few studies in the literature on surgical treatment for spinal metastases are focusing on this special area. The aim of this study was to evaluate the surgical outcome of patients with CTJ metastases and analyze the prognostic factor for the postoperative survival.
Methods
Total of 34 patients with CTJ metastases who underwent surgery in our department were retrospectively analyzed. We evaluated records for the details of medical history, treatment, surgery, radiographic imaging, and follow-up. Outcomes were assessed by overall survival as well as modified Tokuhashi score, SINS, Frankel grade, visual analog scale (VAS), and Karnofsky Performance Status (KPS).
Results
The entire patients' median survival time was 12.4 months (range, 3.5–36.2 months). Pain improved in 32 patients (94.12%), and the postoperative VAS scores were significantly improved compared with preoperative data. Majority of patients (71%) maintained or improved their Frankel scores 1 year after surgery. KPS scores improved in 13 patients (38%), remained stable in 19 (56%), and worsened in 2 (6%) postoperatively. Notably, patients with neurological deficit that did not improve after surgery had significantly worse median survival than those who had either no deficit or who improved after surgery. There were no instrumentation failures in this study.
Conclusions
Surgical treatment is effective for patients of CTJ metastases, with a tolerable rate of complications. Remained or regained ambulatory status predicted overall survival. Thus, prompt and aggressive decompressive surgery is recommended for CTJ metastases patients with neurological impairment.