01.12.2015 | Technical advance | Ausgabe 1/2015 Open Access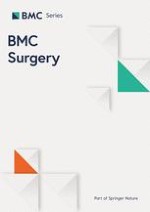 Surgical treatment of bronchial asthma by resection of the laryngeal nerve
Zeitschrift:
Autoren:

Ubaidullo Kurbon, Hamza Dodariyon, Abdumalik Davlatov, Sitora Janobilova, Amu Therwath, Massoud Mirshahi
Wichtige Hinweise
Competing interest
The authors declare that they have no competing interests.
Authors' contributions
UK : Conception and overall experimental management, head of Department of Plastic, Reconstructive Microsurgery. HD : Neck surgery, analysis and interpretation of data. AD : Neck surgery, acquisition of data. SJ : Surgical anesthesia, acquisition of data. AT : Drafting the manuscript. MM : Experimental design and manuscript drafting and revision, Co-head of Regenerative Medicine. All authors read and approved the final manuscript.
Abstract
Background
Management of asthma in chronically affected patients is a serious health problem. Our aim was to show that surgical treatment of chronic bronchial asthma by unilateral resection of the internal branch of the superior laryngeal nerve (ib-SLN) is an adequateand lasting remedial response.
Patients and methods
In a retrospective study, 41 (26 male and 15 female) patients with bronchial chronic asthma were treated surgically during the period between 2005 and 2013. It consisted of a unilateral resection of the ib-SLN under optical zoom, on patients placed in supinator position. 35 patients (24 male and 11 female) who were un-operated were included as a control.
Results
In all patients, medication was reduced progressively. When the results were compared with the control group, it was seen that in 26 % of the patients, both forced expiratory volume (FEV) and peak expiratory flow (PEF) increased significantly (
p <05
) and only modestly in 53.6 % of patients (FEV,
p
 <05 and PEF,
p
 <05). In the remaining 20 % of patients, these parameters remained however unchanged. Overall, in 80 % of patients unilateral resection of the ib-SLN gave satisfactory results because it shortened the intervals and duration of asthmatic attacks, rendering thereby a reduction in medication.
Conclusion
This minimal-invasive method helped prevent/cure asphyxias in chronic bronchial asthma without affecting cough reflex,respiratory control and phonation and it helped patients avoid severe crisis. This approach is of interest for patients with severe and/or uncontrolled bronchial asthma in settings with limited access to drug treatment.