01.12.2018 | Research | Ausgabe 1/2018 Open Access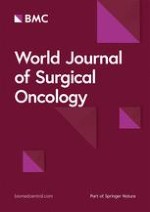 Surgical treatment outcomes of patients with T1-T2 gastric cancer: does the age matter when excellent treatment results are expected?
Zeitschrift:
Autoren:

Rimantas Bausys, Augustinas Bausys, Indre Vysniauskaite, Kazimieras Maneikis, Eugenijus Stratilatovas, Kestutis Strupas
Abstract
Background
The proportion of early gastric cancer stages is increasing, as is the incidence of gastric cancer among the elderly population. Therefore, this study was designed to analyze surgical treatment outcomes of T1-T2 gastric cancer in elderly patients.
Methods
A total of 457 patients with T1-T2 gastric cancer who underwent gastrectomy between 2005 and 2015 were enrolled in this retrospective study. Patients were classified into two groups according to age (< 70 years versus ≥ 70 years). Clinicopathological features, surgical treatment results, and clinical outcomes were compared between the groups.
Results
Higher ASA score (ASA 3/4), differentiated cancer, and intestinal-type tumors were more common in elderly patients. Postoperative complication rates were similar between the two groups; however, postoperative mortality rates were significantly higher in the elderly group. Higher ASA score was independently associated with postoperative complications in the elderly group. Furthermore, severe postoperative complications were found as an independent factor associated with higher 90-day mortality rate. Elderly patients had a significantly poorer 5-year overall survival rate. Two surgery-related factors—total gastrectomy and complicated postoperative course—were revealed as independent prognostic factors for poor overall survival in the elderly group.
Conclusions
Despite higher postoperative mortality rate and poorer overall survival results, elderly patients with gastric cancer should be considered for radical surgery. ASA score may be useful for predicting surgical treatment outcomes in elderly patients undergoing surgery for GC and hence assists clinicians in planning treatment strategies for each individual patient.