16.05.2019 | Sonderheft 1/2019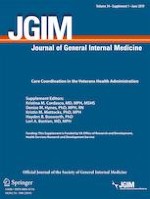 Survey of Patient-Centered Coordination of Care for Diabetes with Cardiovascular and Mental Health Comorbidities in the Department of Veterans Affairs
Zeitschrift:
Autoren:

PhD Justin K. Benzer, MBA, PhD Sara J. Singer, PhD David C. Mohr, PhD Nathalie McIntosh, PhD Mark Meterko, MD, MPH Varsha G. Vimalananda, MPH Kimberly L. L. Harvey, MBA Marjorie Nealon Seibert, DBA Martin P. Charns
Wichtige Hinweise
Electronic supplementary material
Publisher's Note
Springer Nature remains neutral with regard to jurisdictional claims in published maps and institutional affiliations.
Abstract
Background
Multiple comorbidities thought to be associated with poor coordination due to the need for shared treatment plans and active involvement of patients, among other factors. Cardiovascular and mental health comorbidities present potential coordination challenges relative to diabetes.
Objective
To determine how cardiovascular and mental health comorbidities relate to patient-centered coordinated care in the Department of Veterans Affairs.
Design
This observational study used a 2 × 2 factorial design to determine how cardiovascular and mental health comorbidities are associated with patient perceptions of coordinated care among patients with type 2 diabetes mellitus as a focal condition.
Participants
Five thousand eight hundred six patients attributed to 262 primary care providers, from a national sample of 29 medical centers, who had completed an online survey of patient-centered coordinated care in the Department of Veterans Affairs (VA).
Main Measures
Eight dimensions from the Patient Perceptions of Integrated Care (PPIC) survey, a state-of-the-art measure of patients' perspective on coordinated and patient-centered care.
Key Results
Mental health conditions were associated with significantly lower patient experiences of coordinated care. Hypotheses for disease severity were not supported, with associations in the hypothesized direction for only one dimension.
Conclusions
Results suggest that VA may be adequately addressing coordination needs related to cardiovascular conditions, but more attention could be placed on coordination for mental health conditions. While specialized programs for more severe conditions (e.g., heart failure and serious mental illness) are important, coordination is also needed for more common, less severe conditions (e.g., hypertension, depression, anxiety). Strengthening coordination for common, less severe conditions is particularly important as VA develops alternative models (e.g., community care) that may negatively impact the degree to which care is coordinated.