01.04.2004 | Special Article | Ausgabe 4/2004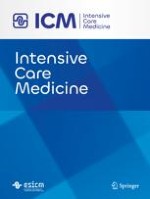 Surviving Sepsis Campaign guidelines for management of severe sepsis and septic shock
Zeitschrift:
Autoren:

R. Phillip Dellinger, Jean M. Carlet, Henry Masur, Herwig Gerlach, Thierry Calandra, Jonathan Cohen, Juan Gea-Banacloche, Didier Keh, John C. Marshall, Margaret M. Parker, Graham Ramsay, Janice L. Zimmerman, Jean-Louis Vincent, M. M. Levy
Wichtige Hinweise
Electronic Supplementary Material
This article is published jointly with
Critical Care Medicine
Chairs: R. Phillip Dellinger, MD*; Henry Masur, MD; Jean M. Carlet, MD; Herwig Gerlach, MD, PhD**. Committee members: Richard J. Beale, MD**; Marc Bonten, MD; Christian Brun-Buisson, MD; Thierry Calandra, MD; Joseph A. Carcillo, MD; Jonathan Cohen, MD**; Catherine Cordonnier, MD; E. Patchen Dellinger, MD; Jean-Francois Dhainaut, MD, PhD; Roger G. Finch, MD; Simon Finfer, MD; Francois A. Fourrier, MD; Juan Gea-Banacloche MD; Maurene A. Harvey, RN, MPH**; Jan A. Hazelzet, MD; Steven M. Hollenberg, MD; James H. Jorgensen, PhD; Didier Keh, MD; Mitchell M. Levy*, MD; Ronald V. Maier, MD; Dennis G. Maki, MD; John J. Marini, MD; John C. Marshall, MD; Steven M. Opal, MD; Tiffany M. Osborn, MD; Margaret M. Parker, MD**; Joseph E. Parrillo, MD; Graham Ramsay, MD*; Andrew Rhodes, MD; Jonathan E. Sevransky, MD; Charles L. Sprung, MD, JD**; Antoni Torres, MD; Jeffery S. Vender, MD; Jean-Louis Vincent, MD, PhD**; Janice L. Zimmerman, MD. Associate members: E. David Bennett, MD; Pierre-Yves Bochud, MD; Alain Cariou, MD; Glenn S. Murphy, MD; Martin Nitsun, MD; Joseph W. Szokol, MD; Stephen Trzeciak, MD; Christophe Vinsonneau, MD. *Executive Committee, Surviving Sepsis Campaign. **Steering Committee, Surviving Sepsis Campaign.
Sponsoring organizations: American Association of Critical-Care Nurses; American College of Chest Physicians; American College of Emergency Physicians; American Thoracic Society; Australian and New Zealand Intensive Care Society; European Society of Clinical Microbiology and Infectious Diseases; European Society of Intensive Care Medicine; European Respiratory Society; International Sepsis Forum; Society of Critical Care Medicine; Surgical Infection Society.
The Surviving Sepsis Campaign is administered jointly by the European Society of Intensive Care Medicine, International Sepsis Forum, and the Society of Critical Care Medicine, and is supported in part by unrestricted educational grants from Baxter Bioscience, Edwards Lifesciences, and Eli Lilly and Company (majority sponsor).
The authors and the publisher have exercised great care to ensure that drug dosages, formulas, and other information presented in this book are accurate and in accord with the professional standards in effect at the time of publication. Readers are, however, advised to always check the manufacturer's product information sheet that is packaged with the respective products to be fully informed of changes in recommended dosages, contraindications, and the like before prescribing or administering any drug.
Abstract
Objective
To develop management guidelines for severe sepsis and septic shock that would be of practical use for the bedside clinician, under the auspices of the Surviving Sepsis Campaign, an international effort to increase awareness and improve outcome in severe sepsis.
Design
The process included a modified Delphi method, a consensus conference, several subsequent smaller meetings of subgroups and key individuals, teleconferences, and electronic-based discussion among subgroups and among the entire committee. The modified Delphi methodology used for grading recommendations built upon a 2001 publication sponsored by the International Sepsis Forum. We undertook a systematic review of the literature graded along 5 levels to create recommendation grades from A–E, with A being the highest grade. Pediatric considerations were provided to contrast adult and pediatric management.
Participants
Participants included 44 critical care and infectious disease experts representing 11 international organizations.
Results
A total of 46 recommendations plus pediatric management considerations.
Conclusions
Evidence-based recommendations can be made regarding many aspects of the acute management of sepsis and septic shock that will hopefully translate into improved outcomes for the critically ill patient. The impact of these guidelines will be formally tested and guidelines updated annually, and even more rapidly when some important new knowledge becomes available.