18.01.2017 | Conference Reports and Expert Panel | Ausgabe 3/2017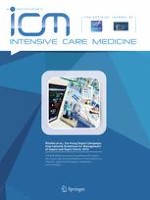 Surviving Sepsis Campaign: International Guidelines for Management of Sepsis and Septic Shock: 2016
Zeitschrift:
Autoren:

Andrew Rhodes, Laura E. Evans, Waleed Alhazzani, Mitchell M. Levy, Massimo Antonelli, Ricard Ferrer, Anand Kumar, Jonathan E. Sevransky, Charles L. Sprung, Mark E. Nunnally, Bram Rochwerg, Gordon D. Rubenfeld, Derek C. Angus, Djillali Annane, Richard J. Beale, Geoffrey J. Bellinghan, Gordon R. Bernard, Jean-Daniel Chiche, Craig Coopersmith, Daniel P. De Backer, Craig J. French, Seitaro Fujishima, Herwig Gerlach, Jorge Luis Hidalgo, Steven M. Hollenberg, Alan E. Jones, Dilip R. Karnad, Ruth M. Kleinpell, Younsuk Koh, Thiago Costa Lisboa, Flavia R. Machado, John J. Marini, John C. Marshall, John E. Mazuski, Lauralyn A. McIntyre, Anthony S. McLean, Sangeeta Mehta, Rui P. Moreno, John Myburgh, Paolo Navalesi, Osamu Nishida, Tiffany M. Osborn, Anders Perner, Colleen M. Plunkett, Marco Ranieri, Christa A. Schorr, Maureen A. Seckel, Christopher W. Seymour, Lisa Shieh, Khalid A. Shukri, Steven Q. Simpson, Mervyn Singer, B. Taylor Thompson, Sean R. Townsend, Thomas Van der Poll, Jean-Louis Vincent, W. Joost Wiersinga, Janice L. Zimmerman, R. Phillip Dellinger
Wichtige Hinweise
Electronic supplementary material
The online version of this article (doi:
10.​1007/​s00134-017-4683-6
) contains supplementary material, which is available to authorized users.
Abstract
Objective
To provide an update to "Surviving Sepsis Campaign Guidelines for Management of Sepsis and Septic Shock: 2012".
Design
A consensus committee of 55 international experts representing 25 international organizations was convened. Nominal groups were assembled at key international meetings (for those committee members attending the conference). A formal conflict-of-interest (COI) policy was developed at the onset of the process and enforced throughout. A stand-alone meeting was held for all panel members in December 2015. Teleconferences and electronic-based discussion among subgroups and among the entire committee served as an integral part of the development.
Methods
The panel consisted of five sections: hemodynamics, infection, adjunctive therapies, metabolic, and ventilation. Population, intervention, comparison, and outcomes (PICO) questions were reviewed and updated as needed, and evidence profiles were generated. Each subgroup generated a list of questions, searched for best available evidence, and then followed the principles of the Grading of Recommendations Assessment, Development, and Evaluation (GRADE) system to assess the quality of evidence from high to very low, and to formulate recommendations as strong or weak, or best practice statement when applicable.
Results
The Surviving Sepsis Guideline panel provided 93 statements on early management and resuscitation of patients with sepsis or septic shock. Overall, 32 were strong recommendations, 39 were weak recommendations, and 18 were best-practice statements. No recommendation was provided for four questions.
Conclusions
Substantial agreement exists among a large cohort of international experts regarding many strong recommendations for the best care of patients with sepsis. Although a significant number of aspects of care have relatively weak support, evidence-based recommendations regarding the acute management of sepsis and septic shock are the foundation of improved outcomes for these critically ill patients with high mortality.