01.12.2018 | Research | Ausgabe 1/2018 Open Access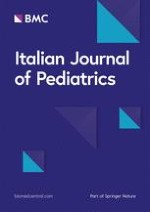 Susceptibility to allergy in adoptive children: a cross-sectional study at "Bambino Gesù Children's Hospital"
Zeitschrift:
Autoren:

Hyppolite K. Tchidjou, Maria Fenicia Vescio, Jessica Serafinelli, Rosaria Giampaolo, Alessandro Jenkner, Mathurin C. Tadonkeng, Luca Avellis, Alessandro Fiocchi, Patrizio Pezzotti, Giovanni Rezza, Paolo Rossi
Abstract
Background
Prevalence of allergy has steeply increased during the past few decades, particularly in high-income countries. The development of atopy could present different characteristics in internationally adopted children with regard to incidence, specific patterns of allergies and timing of occurrence. We aimed to investigate the occurrence of allergic diseases among adopted children in Italy.
Methods
We collected demographic information, preadoption immunization data, infectious diseases screening results, immunological status, and performed hematological and biochemical tests according to a standardized protocol in 108 adopted children.
Results
At initial visit (mean age was 5.7 ± 3.2 years), 48 children displayed elevated total serum IgE levels with a prevalence of 56.5% (95%CI: 0.45; 0.67). The prevalences of children screened positive for one or more food allergens and inhalants were 30.1% (95%CI: 19.9%; 42.0%) and 34.3% (95%CI: 23.3%; 46.6%) respectively, only 9 children exhibited abnormal absolute eosinophil counts, 23 (21.3%) had a parasitic infection and 60 (55.6%) had received at least one dose of vaccine.
Conclusions
Children without medical records or with a past medical history suggestive of atopy should perform a thorough allergy evaluation at the time of adoption. Our study offers also a glimpse at the vaccination status and immune-allergic profiles of recent migrant children in Italy.